Hand Hygiene - Health, Safety & Risk
Just Clean Your Hands
The Just Clean Your Hands program is a hand hygiene improvement program designed specifically for Ontario hospitals by the Ministry of Health and Long-Term Care to encourage health-care providers to clean their hands the right way at the right time. The multifaceted campaign aims to improve patient and staff safety and help prevent hospital-acquired (often referred to as nosocomial) infections.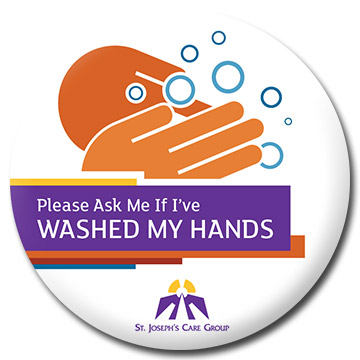 SJCG has launched a new campaign called, "Ask me if I've WASHED MY HANDS". This campaign aims to make patients, families and staff partners in hand washing, which will lead to safer care. If you notice that a staff member has forgotten to clean their hands, give them a gentle reminder such as, "have you cleaned you hands?" Sometimes patients and families forget to clean their hands too. It is easy to forget when you are away from home. This is why our staff will remind patients and families to clean their hands at key times during the day. If we clean our hands 20% more, we can decrease infections by up to 40% (Public Health Ontario, 2007). View our Hand Hygiene Results Here >>
Please ask us if we have washed our hands!
For more information on the Just Clean Your Hands program please visit the Public Health Ontario website.