Sister Leila Greco Apartments (Housing)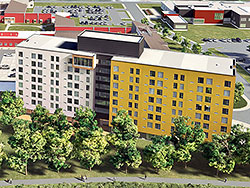 The Sister Leila Greco Apartments is a non-profit seniors supportive housing building located beside Hogarth Riverview Manor on Lillie Street North overlooking the Neebing River. The apartments are designed for seniors who require some level of support to be able to live independently in the community.
If you are a senior who enjoys living independently but could benefit from some assistance, the Sister Leila Greco Apartments may be the right choice for you.
This new building is 100% non-smoking with 8 floors and 132 1-bedroom suites. The apartments are accessible and tailored to meet the needs of seniors by providing a full kitchen, laundry facilities on all floors, dining/activity room and spa room with 2 mechanical lift tubs.
Non-Profit Supportive Housing is designed for seniors whose family income does not exceed the maximum amount set forth by the Canadian Mortgage & Housing Corporation (2012 - $64,817.00 CAD)
The Sister Leila Greco Apartments are a part of the Centre of Excellence for Integrated Seniors' Services.
What is Supportive Housing?
Supportive housing are apartment buildings that also provide support services to tenants. Support services assist tenants with daily living tasks so that they can live independently in their own apartments.
Services are provided based on the level of care required and can be increased or decreased as necessary.
Supportive housing can delay or prevent moving into a long-term care home by providing appropriate levels of care.
The services provided allow tenants to live in their own residence while retaining as much independence and private life as possible.
Supportive housing staff are on-site 24 hours a day/7 days a week and can provide assistance with:
Personal care
Bathing
Meals
Medication reminders
Housekeeping
Laundry
Social activities
Outings
One to one support
Supportive housing and long-term care home eligibility is determined by Home and Community Care Support Services.
How Much Does Supportive Housing Cost?
There are two fees for tenants of supportive housing. One fee is for the apartment rent and a second fee is for support services.
Rental Cost
Rent price includes, heat, hydro, cable television and parking.
Tenants are responsible for their own telephone and internet.
Twenty apartments are eligible for Rent Geared to Income (RGI) assistance.
For more information on rental cost, please contact the Housing Facilitator.
Support Service Costs
Support Services Co-pay is an additional cost to the rent.
This support fee provides care requirements based on your assessment, as well as one full meal per day in our dining room. Additional hours of services are available at an additional cost.
Packages can be adjusted depending on need. If care needs become more than supportive housing can provide, we work with the client/family to look into long-term care application.
Interested in moving into the Sister Leila Greco Apartments?
If you are ready to take the next step, here's what you should do...
Contact the Community Care Coordinator at Home and Community Care Support Services by calling (807) 345-7339 to book an eligibility assessment.
Participate in Home and Community Care Support Services assessment process.
If your assessment results in eligibility, you will be placed on a wait list.
Wait lists will be submitted to St. Joseph's Care Group. SJCG will then determine final acceptance and offer opportunity to prospective tenant.