About St. Joseph's Care Group
St. Joseph's Care Group (SJCG) combines tradition and innovation in responding to the unmet needs of the people of Northwestern Ontario since 1884. We are here for our clients, offering a broad range of programs and services in Addictions & Mental Health, Rehabilitative Care, and Seniors' Health across eight sites in the City of Thunder Bay.
With over 2,400 staff and growing, we pride ourselves on maintaining our core values of Care, Compassion, and Commitment. We are recognized as a leader in delivering safe, high-quality health care and have been Accredited with Exemplary Standing, the highest level awarded by Accreditation Canada.
Our vast service area and culturally diverse client population includes many remote and isolated communities where access to specialized health services is a challenge. To meet that challenge, we find new and innovative ways to deliver care through technology and strong partnerships, and are Northwestern Ontario's regional lead for Rehabilitative Care, Behavioural Supports, Seniors' Care, Rapid Access Addiction Medicine, and Palliative Care.
Coupling research with mobilization, our Centre for Applied Health Research (CAHR) supports internal and external staff and clinicians through expertise, project consultation and knowledge translation.
Our Behavioural Sciences Centre provides service to many companies and businesses in the region through Employee & Family Assistance Programs, the provision of confidential, high-quality counseling, as well as insurance and workplace assessment services.
St. Joseph's Care Group is rooted in a tradition that began 138 years ago with the opening of Thunder Bay's first hospital. We are always changing, always finding new ways to meet the needs of the people we serve, and always here for you when you need us.
Quick Facts
Operating budget of just over $203 million (2021-2022)
110,000 outpatient visits annually
More than 800 student placements in 2021-2022
Client & Family Partners involved at all levels including strategic planning, program development, quality improvement, and are a part of all management hiring panels.
---
Mission Statement
St. Joseph's Care Group is a Catholic organization that identifies and responds to the unmet needs of the people of Northwestern Ontario, as a way of continuing the healing mission of Jesus in the tradition of the Sisters of St. Joseph of Sault Ste. Marie.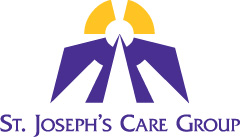 Vision Statement
A leader in client-centred care.
Core Values
Care
St. Joseph's Care Group will provide quality care for our clients' body, mind and spirit, in a trusting environment that embraces diversity.
Compassion
St. Joseph's Care Group will demonstrate dignity and respect for those in need, accepting people as they are, to foster healing and wholeness.
Commitment
St. Joseph's Care Group is committed to our community, the people we serve, the people we employ, and our faith-based mission through a continued pursuit of excellence.
Organizational Structure
The organizational charts below illustrate the programs and services contained within each Vice President's portfolio.