Career Opportunities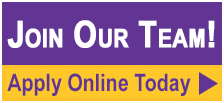 About Working at St. Joseph's Care Group
If you have any questions, please visit our Frequently Asked Questions page.
St. Joseph's Care Group is known for living its values of Care, Compassion and Commitment. We are continuing a tradition that began more than 130 years ago of meeting the unmet needs of the people of Northwestern Ontario.
Located in Thunder Bay, Ontario, we provide services in addictions & mental health, rehabilitative care & chronic disease management, and seniors' health. We believe in investing in our people, and offer learning and development opportunities, continuing education, competitive compensation, and a welcoming workplace culture.
Current Opportunities
All internal and external job postings are available through our online recruitment portal. Simply click the Apply Now button to get started on your new career now.
Please note that you must be a current St. Joseph's Care Group Employee to apply for internal job postings.
Never Applied Online Before? We Can Help.
Applying online is easy. Its quick, simple, and can be done at anytime, anyplace. You will create and manage your own secure personal profile, upload your resume and cover letters, and track your applications. For internal candidates, you will also need your employee number.
What Happens Next
Only applicants selected for an interview will be contacted.
Upon request, accommodations due to a disability are available throughout the selection process.