Bethammi Nursing Home
Notice: Visit our COVID-19 Long-Term Care Homes page for additional information when visiting one of our homes.
The Home has occupancy for 112 residents. All arrangements to access this program are made through the Home and Community Care Support Services.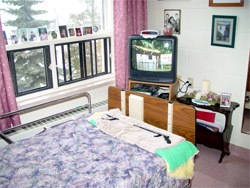 Store
A small store is located in the lobby of St. Joseph's Heritage for your convenience.
Accommodations
Bethammi Nursing Home has a mix of basic and preferred accommodations available for residents. There are 20 basic rooms (three beds to a room), 21 semi privates (two beds) and 8 privates.
All accommodations include a washroom. All are provided with basic furnishings such as bed, night table, closet, vanity and dresser.
Resident Home Areas
Two Resident Home Areas provide a comfortable, familiar and home-like environment for:
Specialized Alzheimer's and Dementia Care
Frail Elderly and High-Intensity Medical Needs
Respite Care
Each Resident Home Area accommodates a maximum of 55 residents. The homelike design fosters resident-focused care reflective of St. Joseph's Care Group's core values of dignity, privacy and individuality. Resident rooms and communal spaces are spacious, home-like and designed to enhance safety and security.
Communal Rooms and Spaces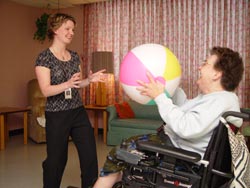 The communal rooms and spaces are designed to optimize flexibility, as the resident mix and resident needs change over time. Access to most resident day-to-day needs are within walking distance of residents' rooms. Lounges in the Resident Home Areas are designed to accommodate quiet activities (e.g., reading, listening to music, watching television) and allow for relaxed social interaction among residents, families and visitors. Most activity/therapy programs take place in designated spaces within the Resident Home Areas.
Amenities such as the main lobby, Heritage Café, hair salon, gift/variety shop, and chapel are accessible to residents and families and the community.
Administrative and Home Support
Administrative and home support spaces for environmental services (e.g., housekeeping, laundry, maintenance and receiving) are located at the ground and basement levels to maximize the efficiency of operations on this site.
Outdoor Spaces
The Heritage complex is surrounded by beautiful landscaped spaces for the residents and families to enjoy. As well, there is a large balcony off the second floor of the home, accessible during the warm season. Large windows, located in the Resident rooms, dining and recreational areas provide a scenic view of the outdoors.