Quality Improvement Plan (QIP)
St. Joseph's Care Group is committed to improving quality of care, enhancing client experience and ensuring workplace safety and wellness. Our annual QIP describes our quality improvement goals and activities for the year.
St. Joseph's Care Group (SJCG) is pleased to present our 2022-23 Quality Improvement Plan (QIP) for St. Joseph's Hospital, Bethammi Nursing Home and Hogarth Riverview Manor.
Our 2022-23 QIP will continue to focus on the following improvement themes: service excellence, timely and efficient transitions, safe and effective care. These quality improvement themes align with provincial priorities and with SJCG Strategic Goals to provide quality and safe care, engage clients and families in care planning and improve transitions in care.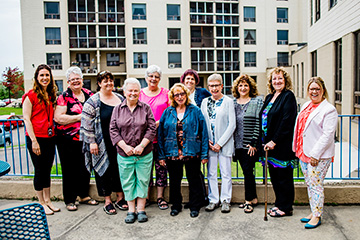 Client and Family Council
"St. Joseph's Care Group has a strong commitment to client and family engagement. We are delighted to be involved in developing this year's Quality Improvement Plan. By sharing our insights and ideas for quality improvement efforts, we can help ensure the plan focuses directly on the needs of the clients"
Our 2022-2023 QIP consists of the following documents:
Narrative QIP Overview
This document provides a brief overview of our top QIP priorities for the year.
Improvement Targets & Change Initiatives
The QIP Work Plan is a document that summarizes our priority quality improvement targets and change initiatives for the year.
Contact
Please feel free to contact the Director of Planning & Performance if you have any questions or comments.