Headlines
March is Nutrition Month
SJCG registered dietitians and food service staff work with clients to create healthy, healing meals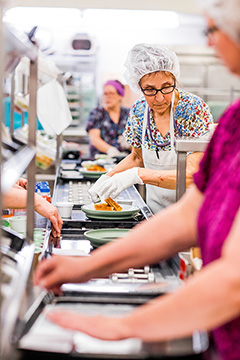 Date: 2019-03-19
Nutritious food is practically a superpower when it comes to healthy living. "A healthy diet is the cornerstone in the prevention, treatment and management of chronic disease, as well as recovery from injury," says Trina Pearson, professional practice leader for the registered dietitians of St. Joseph's Care Group (SJCG). "What we eat, and how our body uses those nutrients, directly affects how our body functions."
At St. Joseph's Care Group, 14 registered dietitians work with clients, other health care professionals and food service staff to get the best possible combination of food choices. "We do a comprehensive nutrition assessment to ensure that we can understand the client's lifestyle and create a nutrition care plan to accommodate that. We're not just going to say, 'this is what you need to do because that's what's best for you,'" notes Pearson. "It's more, 'What works for you? Let's work with that to try and make sure your nutritional needs are met.'"
SJCG registered dietitians engage with clients in a wide variety of settings - in addition to the residential physical rehabilitation and mental health clients at St. Joseph's Hospital, and the residents at Hogarth Riverview Manor and Bethammi Nursing Home, they also have roles with outpatient clinics and programs for people living with diabetes, prediabetes, eating disorders, mental health issues, rheumatic diseases, chronic pain, wound care and neurological conditions. Food choices can sometimes be an unexpected part of the path to wellness. "Nutrition is essential for wound healing, for example. We find that people often aren't getting enough protein, so we work with clients to ensure they meet their protein needs," says Pearson. Or, in working with chronic pain clients, a registered dietitian can help them identify foods that are less likely trigger inflammation.
Different medical issues translate to different nutritional needs - meals may need to be low-sodium, low-cholesterol, diabetic or pureed, for example - so working with the food service team for inpatient meals is a big part of the process. Jessica Harris, food service supervisor at St. Joseph's Hospital, says that her team prepares more than 750 meals a day for clients. Having choices within the framework of the meal plan is also important. "We take orders from each client using an electronic tablet. Maybe they prefer soup and sandwich for lunch, or want fresh fruit for dessert. Taking likes and dislikes into account helps them get the food that they want so they can get better," she says. "Food is a comfort to many people, and we try to meet their needs and make a difference that way."
Registered dietitians also spend time one-on-one with clients to translate nutritional information into real-life situations, and figure out a game plan for getting good nutrition at home. Sometimes, this involves a bit of detective work. Pearson points to the example of a client who needed to reduce his salt intake after a heart attack and two back-to-back surgeries, and while he understood he was going to be cutting out processed meat like salami, he hadn't realized that his favourite ham sandwiches, eaten almost every day for lunch, were high in sodium. Fortunately, he's an avid home cook, and now roasts his own cuts of meat to be used in sandwiches.
At SJCG, registered dietitians are an essential part of the interprofessional health care team, and Pearson is proud of her colleagues. "We've completed really comprehensive and rigorous training. We're held accountable to the highest standards of education and ethics, which means we look beyond the fads and gimmicks and we deliver reliable nutrition advice. Everyone here is dedicated to compassion, care and commitment." And she adds, the clients are one of the best parts of the job. "We work with some amazing clients. Clients are part of our team and we all work together."
Caring Careers Start Here. Visit careers.sjcg.net