Client-Centred Care
Client-centred care is a commitment to improving client experiences by providing compassionate and respectful care and service that acknowledges each client's individual needs and preferences. Clients and families (including friends and other caregivers) work with care providers to make decisions about care and have opportunities to help make improvements to programs and services.
Model of Client-Centred Care
In spring 2013, as part of Strategic Plan 2012-2015, St. Joseph's Care Group engaged with clients and families to better learn about what client-centred care means to the people we serve. Clients and family members identified key themes that helped develop a Model of Client-Centred Care. This Model is a framework that guides client-centred care practices across the organization. The Model supports four elements (Organizational Leadership, Quality Care & Improvement, Dignity & Respect and Client & Family Engagement) to ensure that:
Clients and families are partners in care who participate in decisions about care
Clients' individual needs and preferences are acknowledged during care
Clients and families have opportunities to participate in quality improvement initiatives
Clients and families are treated with respect and dignity at all times

Download our Model of Client-Centred Care here
Client-Centred Care Committee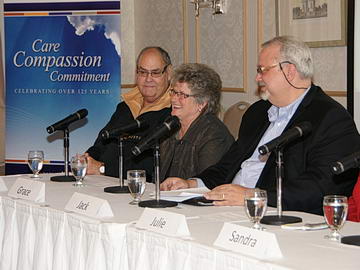 The Client-Centred Care Committee ensures the Model of Client-Centred Care supports all staff, physicians and volunteers in providing the best possible care at all times. The Committee, which includes staff, clients and family members, helps guide activities related to the Model across the organization and ensures that clients and family members are part of developing, implementing and evaluating all activities. Currently, engagement and education activities focused on improving client-centred knowledge and skills are being implemented to ensure all Our People contribute to a culture that supports quality care and service.
Activities of the Model of Client-Centred Care ensure that clients and families have opportunities to:
Engage with the Board of Directors to share their experiences about care and discuss opportunities for improvement
Help develop education opportunities for staff, physicians and volunteers (e.g. workshops, presentations) that enhance skills for engaging clients and family members as partners in care
Participate in client and family engagement forums (e.g. focus group, Client & Family Council) to discuss feedback and make recommendations for improvements
Provide input on future strategic planning
Contact
For more information about the Model of Client-Centred Care or if you are interested in participating in activities/initiatives, please contact us here.