Accreditation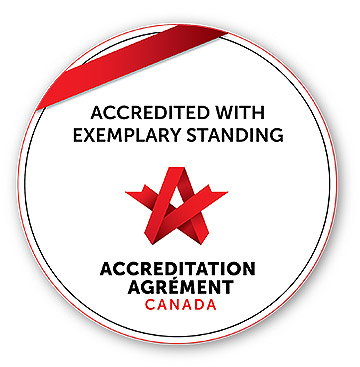 Accredited with Exemplary Standing
St. Joseph's Care Group is committed to continually improving the quality and safety of the care we deliver. We measure our progress through a number of mechanisms including Client and Employee Surveys, through client/resident and family engagement, and a number of other internal initiatives.
Having a number of perspectives helps lead to better outcomes. That's why we voluntarily participate in accreditation with Accreditation Canada - to learn what we are doing well, and where we can improve. By having independent surveyors assess our services against national standards, we are better able to focus our quality improvement efforts.
For the third time in a row, St. Joseph's Care Group was awarded Exemplary Standing - the highest award a Canadian healthcare provider can receive from Accreditation Canada.
Everyone at St. Joseph's Care Group is involved in accreditation, from front-line staff and volunteers to our Board of Directors. That's because we're committed to quality and patient safety.
To learn more about Accreditation Canada, please visit: www.accreditation.ca
2022-2026 - Accreditation with Exemplary Standing
2017-2022 - Accreditation with Exemplary Standing
2013-2017 - Accreditation with Exemplary Standing
Accreditation Report 2022-2026
Learn about Accreditation*
*Questions and Answers provided by Accreditation Canada
How does Accreditation Help You?
Accreditation Canada works with health care organizations to help them improve quality, safety, and efficiency so they can offer you the best possible care and service.
How does Accreditation work?
Health care accreditation, through their Qmentum program is an ongoing process of assessing health and social services organizations against standards of excellence to identify what is being done well and what needs improvement.
What does being Accredited mean?
When you see the Accreditation Canada seal, you can be certain that the health care organization is working hard to meet Accreditation Canada's standards to deliver safe, high-quality care. They do so because better quality means better health.
Who is Accreditation Canada?
Accreditation Canada is an independent, not-for-profit, 100% Canadian organization that consults with experts to develop health care standards. They work with diverse health care and social services organizations, including hospitals, nursing homes, long-term care facilities, clinics, and community health programs. They have worked to improve health care quality and safety for over 55 years. To learn more or find an accredited provider, please visit accreditation.ca or call 1-800-814-7769.