Seniors' Friendly
Contact Us
Seniors' Friendly Culture of Care
Main Office
Downloads

Seniors' Friendly Action Plan
St. Joseph's Care Group continues to support excellence in seniors' care through a senior-friendly culture of care.
What is Seniors' Friendly Care?
St. Joseph's Care Group has developed and endorsed a Senior Friendly Culture of Care Plan to promote an organization-wide approach in service planning and care for seniors. The Plan aligns with the trends and directions identified by Home and Community Care Support Services and the needs of our clients. The Plan aligns with the following five components: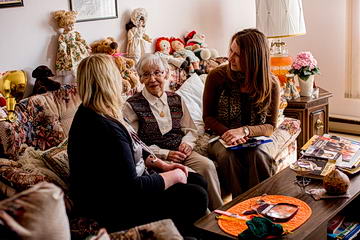 Emotional and Behavioural Environment - Care and service are delivered in a manner that is free of ageism and respects the unique needs of clients and their caregivers, thereby maximizing satisfaction and the quality of the care experience.
Ethics in Clinical Care and Research - Care provision and research are conducted in a health care environment that possesses the resources and capacity to address unique ethical situations as they arise, thereby protecting the autonomy of clients and the interests of the most vulnerable
Organizational Support - There is leadership and support in place to make senior friendly care an organizational priority. Leadership committed to senior friendly care empowers the development of human resources, policies and procedures, care-giving processes, and physical spaces that are sensitive to the needs of senior clients.
Physical Environment - Our structures, spaces, equipment, and facilities provide an environment that minimizes the vulnerabilities of clients with mobility challenges, thereby promoting safety, independence, and functional well-being.
Processes of Care - The provision of care is founded on evidence and best practices that acknowledge the physiology, pathology, and social science of aging and frailty. Care is delivered in a manner that ensures continuity within the health care system and in the community, so that the independence of seniors is preserved.

Download our Seniors' Friendly Action Plan here
Community Seniors' Health Programs
A social and recreational day respite program for older adults with Alzheimer's disease or related dementia. For more information on the Adult Day Program, click here.
Provides a comprehensive assessment with a focus on identifying resources and strengths of the client. Community services are identified and/ or initiated to keep clients in their home and community and a coordinated care plan is delivered based on the assessment needs of the client and their families. For more information on the Geriatric Assessment Program, click here.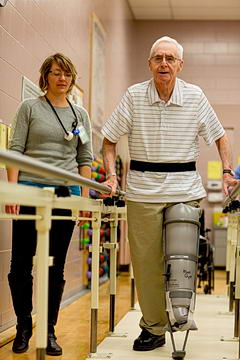 Geriatric Telemedicine
Supports seniors living in Northwestern Ontario by providing assessment, support, and education. Ensures client needs are being met and that a follow-up plan post discharge is implemented. Support also includes televisitation for clients in hospital.
Long-Term Care Mobile Outreach Team
Provides support and transition to clients in long-term care homes with responsive behaviors, recognizing that all behavior has meaning. The main goal is to expand options for clients/families and long-term care to access assistance for behavioural challenges.
Specialized Behavioural Support Unit (Behavioural Supports Ontario)
This service is part of a coordinated continuum of care that draws on the strengths of existing services and builds on the knowledge and resources which are currently in long-term care. It includes a 24-bed transitional unit for long-term care eligible clients with responsive behaviours.
Resources
To learn more about best practices for seniors' care, please visit the following:
*Please note that any of the following linked sites are for directory purposes only and do not, in any way, imply endorsement of any of the sites, their views or policies, or the accuracy of the information that they contain.