Strategic Plan
Focusing on Our Clients, Our Partners, Our People, and Our Future
It is with pleasure that we share with you St. Joseph's Care Group's refreshed 2020-2024 Strategic Plan: Here for You When You Need Us. Our Strategic Plan will see us through transformational change to Ontario's health care system by reinforcing our commitment to Our Clients, Our People, Our Partners and Our Future, as we continue our Mission of meeting the unmet needs of the people of Northwestern Ontario.
By partnering with clients and their families in the care they receive, and in our organizational planning, we will continue to provide clientcentred, quality care throughout our services in Rehabilitative Care, Seniors' Health, and Addictions & Mental Health. To continue to improve client access, experience and health outcomes, we will work with our health system partners to improve transitions in care as well as find ways to increase capacity within the health care system. Ensuring that all clients, staff, physicians, volunteers and visitors feel welcome and included is integral to our Mission. We will leverage St. Joseph's Care Group's Wiidosem Dabasendizowin: Walking with Humility Report to focus on cultivating culturally safe care for all. By demonstrating operational and program-level efficiency and effectiveness, together with proactive planning for the structures and technology that enable change, we will continue to be 'Here for You When You Need Us.'
We would like to acknowledge the contribution of many to this refreshed Strategic Plan including, but not limited to: clients, family members, staff, physicians, health system partners, and community partners. For your time, your insights, your experiences and your desire to deliver the best possible care - thank you.
St. Joseph's Care Group has been a trusted part of our community since 1884, when The Sisters of St. Joseph of Sault Ste. Marie opened our region's first hospital. Over our more than 136-year journey, we have adapted and changed - and will continue to do so to meet the needs in our community.
Sincerely,
Bishop Fred Colli
Chair, Board of Directors
St. Joseph's Care Group

Kelli O'Brien
President & CEO
St. Joseph's Care Group
Our Strategic Direction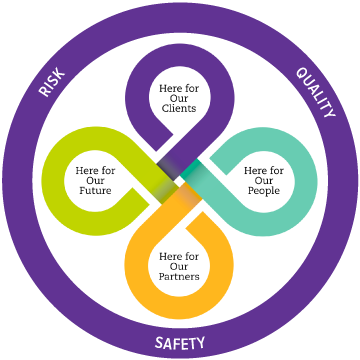 St. Joseph's Care Group is proud to continue providing client-centred care in a way that is sustainable and meets the needs of the people that we serve: we are Here for You When You Need Us. Our role is to deliver high quality services in addictions and mental health, rehabilitative care, and seniors' health, and to support our local and regional partners in those areas.
As we advance our vision of becoming a leader in client-centred care, we plan through the lens of Quality, Safety and Risk. Our Strategic Plan 2020-2024 will focus on four key Strategic Priorities:
Here for Our Clients
To address unmet needs through the provision of quality services, we will:
Ensure clients receive safe and culturally sensitive care.
Engage clients and their families in their care and in organizational planning.
Improve transitions in care.
Here for Our People
To support staff, physicians and volunteers to live our values, we will:
Enhance quality of work life.
Keep staff, physicians and volunteers safe and well at work.
Promote a culture of diversity and inclusion.
Here for Our Partners
To transform the healthcare system, we will:
Be a collaborative partner leading change in our healthcare environment.
Here for Our Future
To ensure continued organizational sustainability, we will:
Achieve and sustain compliance in our long-term care homes.
Maintain financial sustainability.
Proactively plan for health system changes.