Strategic Plan
Focusing on Our Clients, Our Partners, Our People, and Our Future
Our Strategic Plan 2012-2015 ushered in one of our largest periods of growth since The Sisters of St. Joseph of Sault Ste. Marie first opened our hospital in 1884. Some called the plan overly ambitious, but we are proud to have accomplished much of what we set out to do. Our construction projects are certainly the most visible of our changes over the past four years with the completion of Sister Leila Greco Apartments, the Hogarth Riverview Manor Expansion, and the new East Wing of St. Joseph's Hospital, set to open in Fall 2017.
More important are our evolving models of client-centred care. We are continuing to advance a self-management approach to care, and we are involving our clients more closely in their own care decisions to achieve the health outcomes that are important to them. We are using technology to help overcome challenges to healthcare including the sheer size of Northwestern Ontario to bring care closer to the people we serve.
In other words, we are accomplishing our Mission of responding to the unmet needs of our clients throughout Northwestern Ontario, and improving our level of care all the time. This Strategic Plan 2016-2020 sets out our strategy to build upon that success over the next five years.
Our single most important goal is to enhance the client-centred care we provide today and ensure we continue to meet the needs and expectations of Our Clients, Our Partners, Our People, and Our Future.
Tracy Buckler
President & CEO
St. Joseph's Care Group

Linda Pauluik
Chair, Board of Directors
St. Joseph's Care Group
Our Strategic Direction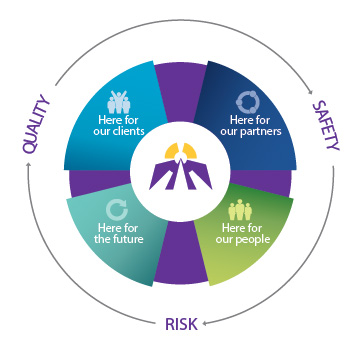 St. Joseph's Care Group is proud to continue providing client-centred care in a way that is sustainable and meets the needs of the people that we serve: we are here for you when you need us. Our role is to deliver high quality services in addictions & mental health, rehabilitative care & chronic disease management, and seniors' health, and to support our local and regional partners in these areas.
As we advance our vision of becoming a leader in client-centred care, we plan through the lens of Quality, Safety and Risk. Our Strategic Plan 2016-2020 will focus on four key Strategic Directions:
Here for Our Clients
We will be here for our clients and address unmet needs through our programs and services by:
Aligning our service offerings with the needs of our communities
Evolving our Client-Centred Care Approach
Here for Our Partners
We will work collaboratively with our partners to define our role in caring for our communities by:
Defining our Regional Role
Clarifying Expectations and Focusing on Capacity Building for Specialized Services and Supports
Here for Our People
We will be here for our people, and will work to advance our vision and continue our mission by:
Investing in Our People
Promoting our Values-Based Culture of Caring
Here for Our Future
We will be here for our future through the responsible use of resources by:
Planning for Continued Financial Sustainability
Optimizing Funding
Focusing on our Role and Having the Right Resources in Place