Headlines
SJCG Celebrates National Volunteer Week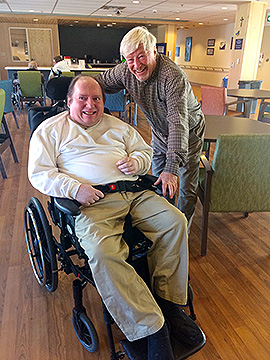 Date: 2019-04-05
Derek and Larry hang out together for a few hours at a time, several times a week. They'll have pizza, chat with the next-door neighbor, or go to a nearby park to take in a ball game. Larry jokes with Derek a bit about his love of the local classic rock station and the way he knows all the songs, or the fact that they're both wearing similar striped shirts. The one thing that's a little different about their friendship is that Derek is a resident of Hogarth Riverview Manor, and Larry is a "friendly visitor" - one of the more than 400 volunteers that are part of St. Joseph's Care Group (SJCG).
"We couldn't do what we do without volunteers," says Anna Grenier, Coordinator, Volunteer Services at SJCG. Last year, volunteers racked up a remarkable 26, 642 hours of volunteer time at all the SJCG sites. There are a variety of positions, each one very much appreciated by staff, residents and clients: mealtime companion, friendly visitor, spiritual care assistant and pastoral visits, entertainer, hairdressing assistant, Hospice Northwest volunteer, St. John Ambulance therapy dog handler, gift shop clerk, Nevada booth clerk, recreation therapy and special events assistant, garden assistant/horticultural therapy, high school co-op students and porters. "Each volunteer position has its own benefits," she says. For example, porters push a wheelchair or walk with a resident who has dementia and isn't comfortable walking on their own to attend a special event. "It's a wonderful position: you're taking someone to a fun event and you can see the joy on the resident's face."
Larry and Derek have been spending time together for the last three and a half years. Larry was first partnered with Derek as part of Hospice Northwest's palliative care - Derek, who lives with an intellectual disability, was diagnosed with a brain tumour, became blind and was given only weeks to live, but he has defied the odds. In their time together, Larry has helped Derek to reestablish communication with family members who live on the other side of the country, and the pair are also looking forward to meeting Derek's uncle at their pizza night.
"We just bonded," says Larry. "He never criticizes, critiques or condemns. We just have fun together." As for Derek, he describes Larry in one word: "awesome."
Interested in Volunteering? Visit volunteers.sjcg.net
Thank you to all volunteers for the difference that you make every day.