Headlines
New Rapid Access Addiction Medicine (RAAM) Clinic Opens in Fort William First Nation as Opioid Crisis Intensifies Across the Country
Date: 2020-11-02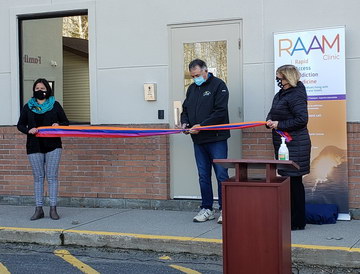 With the COVID-19 pandemic bringing growing numbers of opioid overdoses and fatalities in communities across Canada, response efforts are increasing locally to expand access to addiction services in the Thunder Bay district. Today, Dilico Anishinabek Family Care, together with Fort William First Nation, opened a new Rapid Access Addiction Medicine (RAAM) Clinic.
The new RAAM Clinic site is located in Dilico Anishinabek Family Care on Fort William First Nation of the Robinson Superior Treaty. It is part of a network of RAAM Clinics offering a full team of multidisciplinary professionals including addiction focused medical doctors, nurse practitioners, counsellors, traditional healers and peer support workers. The clinic is a direct and coordinated community response to tackle elevated rates of opioid and alcohol use, while supporting overdose prevention.
"This past September we saw many of our community members rallying together demanding more services to help people suffering from addiction. Our leadership continues to hear and see first-hand how addiction is devastating children and families, and we are committed to getting the best supports available to help our people and community in their healing journeys. Today, Fort William First Nation welcomes this new RAAM Clinic in our community and the programs and services it provides through a collaboration with community partners. The serious addiction issues in our territory can only be addressed with a community-wide approach to intervention and healing," says Chief Peter Collins of Fort William First Nation.
"Healthy communities and children start with healthy parents and families. The leadership of Fort William First Nation identified the need for Rapid Access Addiction Medicine services in the community. In collaboration with our community service partners, Dilico Anishinabek Family Care was able to step up to provide the necessary support to launch a new RAAM Clinic," says Darcia Borg, Executive Director of Dilico Anishinabek Family Care.
"People with addiction often struggle to reach out for support. Having a RAAM Clinic right in the heart of Fort William First Nation reduces the need for people to travel outside the community. It also provides faster access to addiction medicine and supports for individuals experiencing substance use issues."
The new RAAM Clinic offers a confidential, safe and non-judgmental space where people receive immediate and rapid access to specialized addiction services in a healing environment. It brings community resources together to provide an alternative, evidence-based option that addresses addictions from both a holistic health and social perspective. Individuals aged 16 years and over from the Thunder Bay district can access services through a health care provider referral, or as a self-referral by calling (807) 626-8478.
"We are grateful to Fort William First Nation for their leadership and support, and welcome Dilico Anishinabek Family Care as a Rapid Access to Addiction Medicine Clinic (RAAM) site. For people living with addictions, having a third site means improved access, expanded hours, and offers greater choice as to where people would like to access services," says Tracy Buckler, President & CEO of St. Joseph's Care Group."
"As the entire country experiences a surge in opioid deaths, this new RAAM Clinic comes at a critical time. As service partners, we will continue to work together to provide this model of care that meets the needs of our community by providing faster access to addictions medicine, and improved client supports for individuals with substance use issues," says Juanita Lawson, CEO of NorWest Community Health Centres.
RAAM clinics offer in-person and virtual services five days per week. The first Clinic was opened in April 2018 as a local response to help address the opioid crisis in Thunder Bay. On average, the RAAM Clinic will aim to provide support through 850 visits per month.
The RAAM Clinic is a collaboration of the following organizations: St. Joseph's Care Group (Northwestern Ontario RAAM Clinic Lead) NorWest Community Health Centres (RAAM Clinic site), Dilico Anishinabek Family Care (RAAM Clinic site), People Advocating for Change through Empowerment, Thunder Bay Counselling, Thunder Bay Regional Health Sciences Centre and Thunder Bay Drug Strategy.
Media Contact:
Amanda Bay
Firedog Communications
T- (807) 767-4443 Ext 223
E- amanda@firedogpr.com
--