Headlines
Skills for the Job of Living
Date: 2020-11-06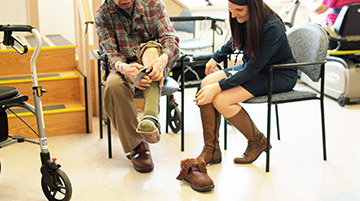 Unless you know an Occupational Therapist (OT), or have received services from one, you may be wondering what type of work they do. Simply put, Occupational Therapy is a profession that focuses on "skills for the job of living." You may be thinking, that's a lot - and it is. OTs work in a variety of ways, with people of all ages, providing rehabilitation to teach or adapt skills, modify environments, and more, to allow clients to improve their function and do what is important to them.
The role of the Occupational Therapist has been around for more than 100 years. Its early beginnings emerged in sanatoriums for tuberculosis treatment and psychiatric hospitals where occupational workers provided "morale treatment" prescribed by doctors - for patients to gain a sense of mental achievement and productivity. Later on, during and after World War I, occupational therapists helped those who were wounded learn new ways to complete daily tasks. The role has significantly evolved since that time, and at SJCG, you will find OTs working throughout our organization, in rehabilitative care, addictions & mental health and seniors' health.
"Primarily, people will see an Occupational Therapist because of a health concern, either as an inpatient or on an outpatient basis. We work with clients to help them achieve their personal wellness goals. That may mean becoming more independent or returning to a role they valued before experiencing their illness or impairment," says Laurie Macdonald, an Occupational Therapist at SJCG, and Occupational Therapy Professional Practice Leader. "At SJCG, we work with individuals with mental or physical health concerns, cognitive impairment, intellectual disabilities, and/or brain injuries."
Occupational Therapists use a diverse skill set to work with their clients, to help them in the areas of self-care, productivity and leisure. The process usually starts with an assessment to determine the client's goals, their skills, abilities, areas of challenge and the resources they may need.
Every client's goals, and the ways to achieve them, are unique. "The diverse nature of our work allows us to work with clients and their care partners (people who are important to the client) to meet the goals that are important to them. It could be working on budgeting and banking skills, practicing transfers to be able to get in and out of bed, assessing for assistive devices, navigating their home or neighbourhood, developing communication skills, or even planning their day," notes Macdonald. "Depending on the unique need, we may even collaborate with local vendors related to modification of a client's vehicle, or connect with a workplace to facilitate their return to work."
OTs also support clients to make connections in the community, such as by providing referrals for home care services, recommending enhanced services with existing community partners, or helping some take on a role as a volunteer.
Ultimately, OTs focus on client-centred goals with their clients, and Macdonald finds joy in seeing their successes. "It is truly rewarding to see someone regain a skill or achieve more independence than they thought possible," concludes Macdonald.
If you'd like to learn more about Occupational Therapists and what they do, visit www.OTOntario.ca or www.coto.org
--