Headlines
Working Through Difficult Healthcare Decisions
Date: 2020-11-18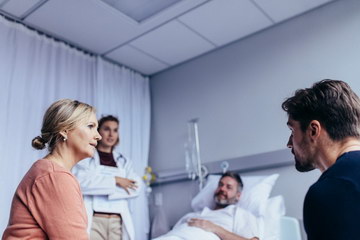 Sometimes we are faced with decisions that have no clear answer. When it comes to health, those decisions can be even more complicated because they involve body, mind and spirit. A bioethicist just might be able to help.
Bioethics is the application of ethics to medicine and healthcare. A bioethicist is a professional who works with clients and care partners (anyone important to the client) to promote communication and respectful decision-making. They listen to the concerns, the voices and values involved. "A bioethicist can help people work through difficult decisions that don't have a clear answer. It's about guiding people in a supportive way so that a meaningful resolution can be determined," explains Michelle Allain, Bioethicist at St. Joseph's Care Group (SJCG).
A consultation from SJCG's Bioethicist can be requested by anyone involved with SJCG - clients, their families, employees, and volunteers. "A bioethicist can provide consultation in many ways, such as someone choosing to live at risk or a family struggling to make a treatment decision for their loved one who did not make their wishes known. It could also be staff who may need help to guard against moral distress, or to help them feel like they are able to support the client/family they are providing care for," says Allain.
"I'm often asked by clients looking for guidance in talking with family about making sure their wishes are carried out if they can no longer make decisions for themselves," comments Allain. "It's not easy, but, it's important to have open and honest conversations with your care partners about your choices related to death and dying and make them clear by writing them down." This informs your care givers and prevents them from having to make guesses about your wishes which can sometimes cause feeling of guilt or discord between family members. "And choose a power of attorney for personal care who understands and agrees to carry out your healthcare decisions," adds Allain.
The Bioethicist position at St. Joseph's Care Group (SJCG) has been in place for over ten years and was established at the recommendation of the Ethics Committee. Up until that time, the Ethics Committee (a small group of professionals in various roles with special training in ethics) had been responding to requests for ethics consultation. "Having a Bioethicist means that we have someone who is formally educated in the role and is dedicated to our clients as their first priority," says Katherine Stewart, Co-Chair, Ethics Committee.
The Ethics Committee has since evolved and is now made up of "Ethics Ambassadors" who help create staff awareness about the services of the Bioethicist and build staff competency to identify when a bioethicist consult would be beneficial.
"As a clinician, we're often dealing with complicated ethical issues. It's good to bring in a third party who has expertise, and can look at the issue from all angles," says Dr. Wendy Lindstrom-Forneri, a Neuropsychologist at St. Joseph's Hospital. "There have also been times I have referred families to the bioethicist, when they have concerns and aren't really sure which route to take. It's helpful knowing there is somebody who can listen to them and hear their concerns, and also bring in other perspectives."
For more information about Bioethics consultations at St. Joseph's Care Group, ask a member of your care team. If you are looking for resources for Advanced Care Planning, speak with the program Social Worker. As well, there are resources and workbooks available online for advanced care planning. Visit www.speakupontario.ca for more information.
--