Headlines
Recognizing and Coping with Grief During the Holidays
Date: 2020-12-15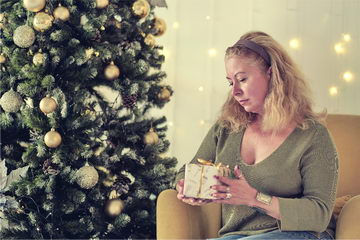 For those who have lost a loved one, the holidays can be an especially difficult time of year. Memories of past celebrations with family members or friends who are no longer here can magnify feelings of loss. How we cope with grief is unique to each of us.
There may be times when you feel sad, angry or frustrated. You may feel loneliness or longing for the person who has died. At other times, you may experience joy and laughter or enjoy yourself for a few moments - and then feel guilty. Expect your feelings to change, maybe without much warning, and remind yourself that this is part of the healing process.
Children and youth may also experience changes in their grief during special days and holidays - your child may not have difficulty with the same days that you do and may not share your reactions or feelings. Ask about their thoughts and feelings. Find out what is most important and remember to include them when making any plans.
Having some coping strategies can help you through the holidays:
Ask friends and family to support you in making plans that you can change according to how you're feeling. You may need to accept or decline invitations on a 'last minute' basis and that's okay.
Remind yourself that it's okay to laugh - as well as cry.
Continue traditions you enjoy and leave out those you don't. Allow yourself to do things differently - or not at all.
If you have a faith community, use those ceremonies or rituals to support you in your grief.
Talk with other bereaved people, or with friends and family members who've experienced losses to find out how they get through these special days and holidays.
You may decide to go "shopless" this year and instead, make a charitable donation in the name of the person who has died.
Don't compare your grief to that of others. We're all unique and different. Treat yourself with patience and kindness.
Purchase a gift for yourself that your loved one might have bought for you.
Give yourself permission to not be your 'usual self' or to take 'time off'.
Acknowledge that you are doing the best you can.
Allow a place in your life for your grief. Amidst the activities and demands of everyday life, plan restorative time alone or with supportive others.
If you feel that friends and family are now less willing or able to support you, consider joining a bereavement support group.
Remember that you can always do things differently next year.
The North West Regional Palliative Care Program at St. Joseph's Care Group works together with Hospice Northwest and the Centre for Education and Research on Aging & Health (CERAH) to provide grief and bereavement resources and support in Northwestern Ontario.
For a listing of resources in Thunder Bay, visit:
Some information in this article was condensed from: Grief: Special Days and Holidays. Victoria Hospice, Bereavement Services, Victoria, BC www.victoriahospice.org.