Headlines
Holiday Message from Bishop Colli and Tracy Buckler
Date: 2020-12-18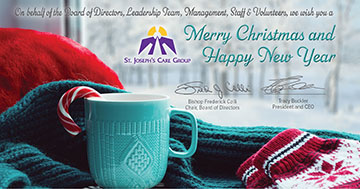 As we all know, this year of the COVID-19 pandemic has been one for the books. With the holiday season upon us, we are rearranging our usual traditions and festivities to adapt to our 'new normal' in order to keep ourselves, our loved ones and our community safe.
Yet, throughout it all...
Healthcare workers have shown great capacity to care for clients. They have become family for some of our inpatients and residents when their loved ones could not be there; adapted how care is delivered by making use of technologies to have virtual appointments; and embraced constantly changing safety precautions and procedures to prevent the transmission of the virus into care environments.
Our community has demonstrated profound compassion for each other. Whether it's supporting local charities, helping neighbours or doing what they can for those struggling - we've all been impacted in some way by this pandemic - it has brought out the best in us all.
Although the pandemic has kept us apart, it has also brought us together in our commitment to stop the spread of COVID-19. We wear masks and physically distance and have found new ways to socialize with family and friends, to make sure we aren't putting others at risk. We celebrate the arrival of the vaccine, but, at the same time, we must strengthen our resolve for a bit longer to keep everyone safe.
Care, Compassion, Commitment - it's in our nature and it's why Thunder Bay is called a community with a giant heart.
On behalf of St. Joseph's Care Group, we wish you a Merry Christmas, Happy Holidays, and the best in the New Year to come.
Sincerely,
Bishop Fred Colli
Chair, Board of Directors
Tracy Buckler,
President & CEO