Headlines
Personal Support Worker Training
Date: 2021-01-21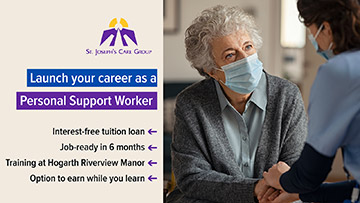 Are you interested in becoming a PSW? If so, St. Joseph's Care Group (SJCG) has partnered with SE Career College of Health to provide Personal Support Worker (PSW) training at Hogarth Riverview Manor over a 26-week period starting February 2021. You will also have the opportunity to earn income by working as a Resident Home Worker on a part-time basis throughout the duration of the training.
As part of this program, you will:
Receive onsite training (unpaid) for 26 weeks for five hours per day from Monday to Friday
Attain your PSW Certification upon successful completion of the program and qualifying exam
Have paid tuition with only an interest-free loan of $3000 repayable over two years following graduation
Your commitment to SJCG:
Must attend the full 26 weeks of training to obtain certification
Two-year commitment to work as a PSW in long-term care at SJCG upon graduation
Repay the $3000 interest-free loan deducted from your pay over 52 equal payments
Selection will be based on:
Desire to care for others
Attendance and reliability to date
Ability to pass literacy and aptitude testing
To apply:
If you are over the age of 18, please submit an email that answers the following questions:
Why are you interested in becoming a PSW for SJCG?
A PSW must show compassion. What is your understanding of compassion and how do you demonstrate compassion in your everyday life?
What special attributes or strengths will you bring to your role as a PSW?
Include your name, home address, email, and cell/home phone number and send by January 28 2021 to: careers@tbh.net
---
Other career opportunities can be found on our recruitment website.