Headlines
Taking your life back from Chronic Pain
Date: 2021-02-16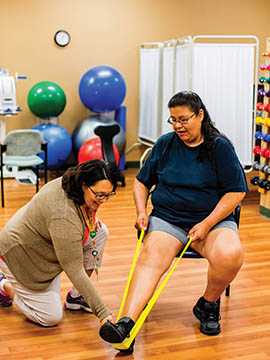 At times in our lives, we may all experience pain for different reasons. When pain becomes constant and does not get better with time or conventional treatments, it can become life limiting. Living with chronic pain can feel like it is taking over your life - and we are here to help.
The Chronic Pain Management Program at St. Joseph's Care Group gives people options on how they can take back control of their lives by learning and using self-management techniques. Located at St. Joseph's Health Centre, the program helps individuals:
Learn and develop coping strategies
Get active and engage in meaningful activities
Improve overall physical fitness, emotional health, and quality of life
Clients determine their own wellness goal(s). Taking into account all aspects of the client's life, the client and the Chronic Pain Management Team develop a personal treatment plan to meet those goals. Team members are available for personal consultations during programming time to provide complete 'wraparound' care. The Team includes:
Physiotherapists
Kinesiologists
Occupational Therapists
Registered Nurse
Psychological Associate
Psychologist
Mental Health Clinician
Dietitian
Social Workers
Rehabilitation Assistant
Therapeutic Recreationist
Physician
If additional treatment is recommended, the program staff makes referrals to other healthcare providers.
There are two program options available. The first is an intensive 6-week program where clients attend half-day sessions Monday to Thursday. The second option, called PACE-IT, is a less intensive 10-week program where clients attend one afternoon session per week.
"Clients who have attended programming have experienced varying degrees of improvement in their pain and/or their ability to cope with pain," says Ashley Lyon, Chronic Pain Management Program Manager. She adds, "Our interdisciplinary team treats the whole person, not just the pain. That, along with the client's commitment to improving their lives, is why I believe the program has been so successful."
Is the Chronic Pain Management Program for you? If you are 16 years of age or older, living with non-cancer pain that is interfering with your enjoyment of life and you are ready to learn and practice self-management strategies, ask your Primary Care Provider for a referral. Online referrals at The Access Point Northwest.
If you are covered under the Ontario Health Insurance Plan (OHIP), there is no cost for treatment.
---
More information can be found at our Chronic Pain Management Program page.