Headlines
Pilot Project Brings Rehabilitative Care Closer to Home
Date: 2021-05-18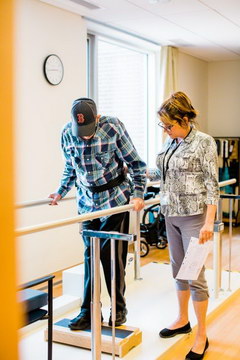 When people are recovering from an injury, surgery, or an illness that has impacted their physical and/or cognitive abilities, discharge from an acute care hospital doesn't necessarily mean their healing journey has come to an end. In many cases, rehabilitative care is required to allow the person to regain strength, mobility and/or learn new ways to accomplish daily tasks.
St. Joseph's Hospital provides specialized rehabilitative care in Thunder Bay, and is often a next step in the recovery journey. We know that, for many people facing a long road to recovery, returning to their home community - or a community closer to home - as quickly as possible would be their preference. But what if home is a community where rehabilitation services are limited, temporarily unavailable, or do not exist at all?
To address this unmet need in our region, St. Joseph's Care Group (SJCG) embarked on a six-month pilot program called the Regional Rehabilitative Care Outreach Program (RRCOP). This program aims to bridge the gap in care to increase access to rehabilitation services at hospitals across Northwestern Ontario.
The program is led by the Regional Rehabilitative Care Program Manager and includes a Physiotherapist (PT) and an Occupational Therapist (OT) as part of the team. "The team is deployed to Northwestern Ontario hospitals that have temporary shortages in rehabilitation professionals - similar to a "supply teacher" model for rehabilitation," said Denise Taylor, Manager of St. Joseph's Care Group's Regional Rehabilitative Care Program. "The OT and PT visit these hospitals each month for in-person assessments and treatment. When they are not onsite, rehabilitation is provided virtually by videoconference and phone calls, and by using email to provide resources."
The pilot program is already getting positive feedback from clients.
Kim Fournier of Geraldton was concerned about having to travel more than three hours each way to Thunder Bay for physiotherapy after her shoulder surgery in February. She was offered the opportunity to take part in this pilot program and received both virtual and in-person appointments. "Without these two amazing therapists (PTs), I wouldn't be near as successful with my progress. They've provided me with programs that I can print, videos to ensure I am doing the exercises properly, and the encouragement that I'm doing well and progressing."
Care close to home is meaningful for David Tamblyn of Rossport. He is learning to walk again after surgery for a brain tumour. Rather than having to travel 200 km to Thunder Bay, he has been treated by the program's OT at The McCausland Hospital or virtually from home. "She is able to observe me walking, and when I'm using my walking poles she can make recommendations in terms of how to fix them [so] that I'm not tripping over them," he says. "That's been very helpful. It's practical because it's not always in the clinic. We've gone out walking outside, more on the terrain that I'm accustomed to walking, rather in a hospital setting."
"There have also been great collaborative partnerships fostered," notes Taylor. "Our Occupational Therapist and Physiotherapist collaborate with other rehabilitation professionals in the region to share care for clients who have specialized rehabilitation needs such as complicated wheelchair prescriptions, or braces. That synergy is exactly what we want to see."
For more information, please contact Denise Taylor at taylord@tbh.net.