Headlines
First Steps Report to the Community
Date: 2021-06-18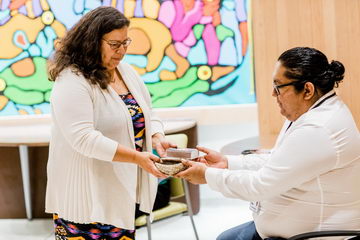 On June 17, 2019, St. Joseph's Care Group held an event where we reaffirmed our commitment to working together with Indigenous Peoples, officially opened Nagishkodaadiwin (Spiritual Healing Lodge), and announced our first Director of Indigenous Relations.
We also embarked on Wiidosem Dabasendizowin: Walking with Humility - A Plan to Develop Relationships and Practices with Indigenous Peoples 2018-2020. It was a plan that was ambitious by design, reflecting our commitment and readiness for change.
Today, we are sharing St. Joseph's Care Group's First Steps Report with the community. Highlights include:
Embedding our commitment to developing relationships and practices with Indigenous Peoples into St. Joseph's Care Group's Strategic Plan.
Establishing an Indigenous Health Team.
Honouring Indigenous Knowledge through the creation of the Traditional Healing Program.
Focusing on education as a foundation, led by an Indigenous Health Education Committee that has a minimum of 50% Indigenous membership.
An Elder's Advisory Council share guidance and support to clients, staff and the organization.
"Much of what has been accomplished has been foundational, supporting an environment that respects body, mind and spirit, where traditional medicines and traditional healing are embedded in the care provided," said Tracy Buckler, President & CEO of St. Joseph's Care Group. "Strong foundations are being built for our continued journey of Walking with Humility."
"I am grateful to the Elders for their guidance, support and prayers. The past two years have seen a lot of change, especially with the establishment of a Traditional Healing Program and the Indigenous Health Team. When I hear from clients how much it meant to see a member of the Team, or take part in Sharing Circles, and the difference it made to their health, it is a gift and it tells me that our journey is taking us in the right direction," said Paul Francis, Director of Indigenous Relations with St. Joseph's Care Group.
Attachments
For further information on this event, or on St. Joseph's Care Group, please contact:

St. Joseph's Care Group Communications, Engagement & Client Relations
Media Line: (807) 768-4455
Email: sjcg@tbh.net