Headlines
You Spoke, We Listened! Client Satisfaction at St. Joseph's Care Group
Date: 2021-08-19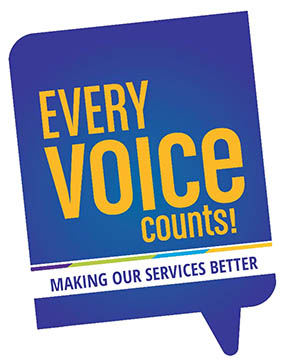 Did you know that St. Joseph's Care Group (SJCG) conducts an annual survey to hear directly from clients and their families about their experience with our programs and services? Our Client Satisfaction Survey is one of the many ways we hear from clients and their families, and incorporate their feedback to continually improve our care and environments.
The survey is lead by SJCG's Centre for Applied Health Research (CAHR). "Results of the survey give us an overall view of how we are meeting our clients' needs across the organization," says Hillary Maxwell, Research Coordinator with CAHR. "This year, everyone who receives care from September 13 to November 8 will have the opportunity to complete the survey."
Clients, their family members or caregivers can complete the survey on paper or online. It's available in accessible formats and in five languages: English, Oji-Cree syllabics, French, Italian, and Finnish. "Trained volunteers are available to help clients and family members fill out the survey, explain questions and return the survey to CAHR," says Maxwell. The survey looks at a number of key areas: listening, courtesy and respect, involvement in care planning, understanding explanations, cultural support, quality of care, cleanliness, food, and more.
"Obtaining this feedback is a part of learning for an organization," says Tracy Buckler, SJCG's President and CEO. "We listen to what our clients have to say because they are the experts and they are the reason we are here. Not only can they tell us what we are doing well or where we've missed the mark, but because we also reach out to people who have completed their care, we hear firsthand whether it was a smooth transition or if discharge planning could have been better."
When the Client Satisfaction Survey is completed, the results are reviewed by the SJCG Leadership Team and Board of Directors, before being published to our website and distributed to teams at all sites. Leadership, managers and staff work with clients and families to prioritize the feedback and develop improvement plans where required. This is done in a number of ways: through our Community Engagement Councils, Resident & Family Councils, and other planning groups that include SJCG's Client & Family Partners. "SJCG's vision is to be a leader in client-centred care", says Jack Christy, Client/Co-Chair of SJCG's Client and Family Council. "Client Satisfaction Surveys help staff, clients and families identify the true strengths and weaknesses of the organization so that we can work together to improve how client-centred care is designed and delivered."
Sometimes improvement plans are straightforward, like changing signs to help people find their way around a site. Other times, the survey points us to an area that requires further input and a longer-term approach. For example, Indigenous clients told us that we were not providing all of the cultural supports needed to care for body, mind and spirit. As part of our work in Walking with Humility, a plan was put into action to improve access to cultural supports through the establishment of an Indigenous Health Team and a Traditional Healing Program.
We heard from clients and families who said they needed more information and supports when being discharged from hospital. We addressed this in a number of ways by working with Client & Family Partners to revise our processes and forms, create in-room information boards, establish post-discharge calls, and develop Patient Oriented Discharge Summaries (PODS) that put appointments, medications, referrals and follow up information into one easy-to-understand document. In long-term care, improvements to the dining experience brought kudos from residents, and these enhancements were reflected in a higher satisfaction rating in the following year's survey.
Client Satisfaction Surveys are just one of the ways we hear from our clients and families. Feedback is always welcome! Clients are encouraged to talk with us about questions and concerns whenever they feel an area can be improved or if they don't understand something. Open and ongoing communication among clients, families and their care team supports a positive care experience.