Headlines
Mandatory Management Order Lifted at Hogarth Riverview Manor
Date: 2021-09-10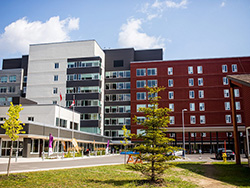 St. Joseph's Care Group is pleased to announce that efforts to improve the delivery of care at Hogarth Riverview Manor have been recognized by the Ministry of Long-Term Care with the lifting of the Mandatory Management Order, effective Thursday, September 9, 2021.
"People choose a career in long-term care because they want to make a difference in the lives of seniors," said Tracy Buckler, St. Joseph's Care Group's President & Chief Executive Officer. "The staff and management of Hogarth Riverview Manor have worked incredibly hard to make the necessary changes to consistently deliver the safe, high quality care that our seniors deserve."
Hogarth Riverview Manor has worked in partnership with Extendicare Assist to jointly develop and implement the tools, training and technology needed to achieve and sustain compliance with the Long-Term Care Homes Act.
"We know we're on the right path," said Janine Black, Vice President Seniors' Health. "Every aspect of how we deliver resident care was put to the test with the arrival of the pandemic. That there has been no evidence of transmission of COVID-19 (or any other viruses) is a testament to the cooperation, coordination, care and commitment of the Hogarth Riverview Manor team and all other St. Joseph's Care Group staff."
Buckler is optimistic that funding announcements made in recent months will benefit the residents and staff at Hogarth Riverview Manor, a not-for-profit long-term care home. "There has been an acknowledgment of the challenges that long-term care has faced as a sector, including underfunding and critical health human resource shortages."
---
St. Joseph's Care Group (SJCG) combines tradition and innovation in responding to the unmet needs of the people of Northwestern Ontario since 1884. We are here for our clients, offering a broad range of not-for-profit programs and services in Addictions & Mental Health, Rehabilitative Care, and Seniors' Health across eight sites in the City of Thunder Bay.
Media Contact:
Kim Callaghan, Director of Communications, Engagement & Client Relations
St. Joseph's Care Group
sjcg@tbh.net | (807) 768-4455