Headlines
Celebrating Seniors' Month
Date: 2022-06-10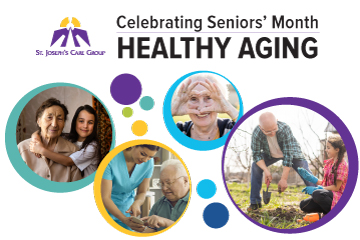 June is Seniors' Month, a perfect time to celebrate the contribution of seniors in our community.
We've put together some helpful resources that support healthy aging - body, mind and spirit!
Prevent a Fall
Keep walking areas well lit and clear of clutter both inside and outside. Add handrails and other assistive devices where helpful. Don't forget your feet: wear practical non-slip shoes.
Eat Well
The more regularly you eat, the better you may feel. If you don't feel like cooking, replace a meal with 2 or 3 easy snacks.
Review Medications
Review your medications regularly with your pharmacist and healthcare provider.
See your Healthcare Provider
If you have a health concern, don't put off visits with your healthcare provider(s). If you are experiencing an urgent medical issue, call 911 or go to the Emergency Department.
Keep in Touch
Continue to follow public health guidance. Maintain an active social life - connections with other people are essential for your overall well-being.
Get Immunized
Keep your routine immunizations up-to-date. Ask your pharmacist or healthcare provider about vaccines specifically designed for seniors, including adjuvanted influenza, pneumonia and shingles. And if you haven't received your COVID-19 vaccine - consider getting immunized if you're medically able to do so.
Mental Health Matters
Your mental health is an important part of your overall health. It's normal to feel out of sorts from time to time, but if you are experiencing prolonged feelings of sadness, anger, anxiety or hopelessness, speak with a healthcare professional to find the help you need.
Move Your Body
Exercise regularly. Find an activity you enjoy that gets you moving and your heart pumping.
General Wellness Resources for Seniors
Caregiver Resources