News
St. Joseph's Care Group Continues It's Journey of Walking with Humility
Date: 2022-06-30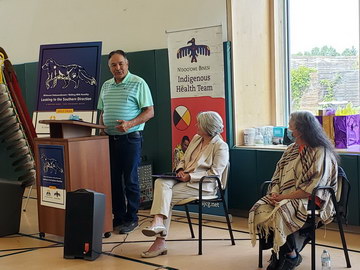 Thunder Bay, Ontario - Today marks the continuation of St. Joseph's Care Group's journey of reconciliation with the launch of Looking to the Southern Direction, the second of our Wiidosem Dabasendizowin: Walking with Humility plans to develop relationships and practices together with Indigenous Peoples.
"Looking to the Southern Direction is deliberately ambitious, reflecting our commitment to as well as our understanding of the urgent and immediate need for change," said Kelli O'Brien, President & Chief Executive Officer of St. Joseph's Care Group. "As a Catholic healthcare provider, we must be honest about our past, and humble in our responsibility to be truthful about our history and the impact of our actions on the health status of Indigenous Peoples."
The southern direction in Anishnaabemowin is "Zhaawanong" and it represents the stage of life known as adolescence and the season of summer. "In summer, everything is thriving, awake, new, and growing fast," noted Paul Francis Jr., Director of Indigenous Relations. "That's exactly where we are in our journey. We've nurtured our roots through teaching and ceremony, growing our culture and practices, and instilling a strong and capable Indigenous Health Team. I'm excited about our next steps."
Over the two years of the plan, Looking to the Southern Direction focuses on ensuring clients receive safe and culturally sensitive care and will support our staff, physicians and volunteers to work in the spirit of reconciliation, upholding the rights of Indigenous Peoples in an environment that is free from racism and discrimination. Our actions will focus on six key areas: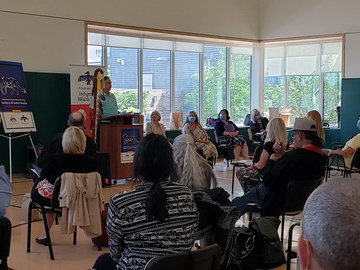 Integration of Indigenous Knowledge & Healing Practices
Cultural Humility as a Journey
Prioritizing Indigenous Health
Continued Engagement in Indigenous Research & Evaluation
Indigenous Leadership & Governance
Communications
A Healing Way Forward
"Indigenous cultures have always planned for the future," notes Francis. "Part of good planning means you know your history and think about the generations yet to be born. Indigenous voices are crucial to our transformational journey."
"All that we do is guided by Ogichidaa Onaakonigewin, the Elders Advisory Council," said O'Brien. "We are grateful for their wisdom, and honour the knowledge they share through our actions and commitment to culturally-safe care."
Partnership is integral to moving forward, and were honoured to have Fort William First Nations Chief Peter Collins and the Honourable Patty Hajdu, Minister of Indigenous Services and Minister Responsible for FedNor, join us as we launched Walking with Humility: Looking to the Southern Direction.
Quick Facts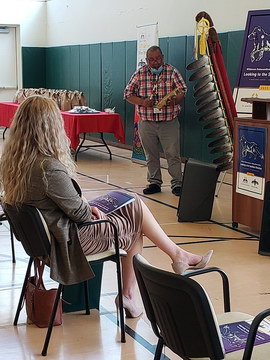 St. Joseph's Care Group's journey of Walking with Humility was formalized in 2018 with the launch of our plan together with welcoming our first Director of Indigenous Relations, Paul Francis Jr.
Our First Steps Report, released on June 16, 2021, shared tangible outcomes with the community to demonstrate our progress, and included:

Formation of the Elders Advisory Council in 2019
Creation of a Traditional Healing Program rooted in traditional practices and healing
Development of an Indigenous Health Team including a Clinical Manager, Cutural Practitioner, Indigenous Counsellor and Transitions Coordinator
Implementation of Smudging and Ceremonial Events and Nookwezhigan: The Tradition of Smudging policy and education
Introduction of Ceremony in our work (Sharing Circles, Sacred Fire), together with education guided by the Indigenous Health Education Committee to share knowledge and build cultural safety

Walking with Humility is a core commitment in St. Joseph's Care Group's Strategic Plan 2020-2024: Here for You When You Need Us.
Attachments
Related Links
---
For more information, please contact:
St. Joseph's Care Group Communications, Engagement & Client Relations
Media Line: 807-768-4455
Email: communications@tbh.net