News
Addictions Awareness Week - November 20-26, 2022
Date: 2022-11-24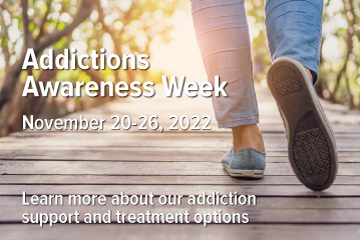 When you are ready for recovery, we are here for you when you need us.
If substance use or gambling is impacting your life, call (807) 684-5100 to find a program that's right for you.
I'm ready, where do I start?
Addiction assessment is the first major step in treatment. The assessment will gather information about drug and alcohol use, medical conditions, withdrawal or behavioural concerns, mental health concerns, readiness for treatment and living environment.
Call Sister Margaret Smith Centre at (807) 684-5100 to be connected to a staff member who can guide your through the assessment process.
Treatment Plan
After your assessment, you will work with a counsellor to create a treatment plan to meet your goals. This may include referrals to other agencies to address physical, mental and spiritual health needs.
Outpatient Treatment
Counselling is a core part of any treatment program. In addition, a client may participate in other activities that are beneficial to their recovery. Some of these include:
Group Counselling
Spiritual Care
Stress Management
Dialectical Behaviour Therapy
Trauma and Addictions
Explorations Group
Live-In Treatment
Sister Margaret Smith Centre is home to our intensive live-in treatment program for addictions. Live-in treatment allows the client to focus on self-discovery, their health and their future.
Programs run over five weeks and include group therapy, individual counselling, education, life skills development, an introduction to self-help, leisure and recreation activities.
Clients are given their own room, and programming is provided in a safe environment organized by youth age 16-24 and adults.
Women's Day Treatment
In response to community needs, the Women's Day Treatment was introduced. This program is a treatment option for women who cannot live-in treatment due to family committments and/or other factors. The program runs daily over several weeks, and offers the same content as the live-in program.
Focus on Youth Addictions
Are you ready to start your recovery journey? U-TURN helps youth (aged 12-24) struggling with substance use to turn their life around.
Through U-TURN, youth are connected to addiction and mental health services provided by Children's Centre Thunder Bay, St. Joseph's Care Group and Thunder Bay Counselling.
U-TURN offers:
Counselling
Individual and group counselling is available. Family involvement is encouraged.

Skills Building Group
Using Dialectical Behavioral Therapy (DBT) clients develop healthy ways to cope with stress, regulate emotions and improve relationships. Learn skills in mindfulness, distress tolerance, emotional regulation, effective interpersonal interaction, and walking the middle path.

Oshkiniikidjig Miikanens (OM)
OM weekly group meetings focus on traditional Indigenous healing and cultural connections. Learn about land-based treatments, traditional cultural practices and Indigenous community resources.

CHOICES
The Choices program encourages young people to think and act positively, build self-esteem and learn valuable life skills in a safe environment.
Gambling and Behavioural Addictions
If gambling, gaming, internet use, shopping, or hyper sexuality problems are negatively impacting your life or your loved ones, the Gambling and Behavioural Addictions program can help.
We offer individual, family and couples counselling as well as group sessions to address the addiction and any underlying issues.
Family Program
The Family Program at Sister Margaret Smith Centre is available to ANYONE who has a loved-one living with a substance or behavioural addiction. It's free and confidential.
Loved ones may struggle with feelings of shame, guilt, anger, fear, anxiety or sadness. It's especially difficult when a loved one is not ready to acknowledge or get help for their addiction. The Family Program helps loved ones take care of their own mental health first so they are in a better frame of mind to cope.
Counselling is available 1:1 or with other family members. Education and support groups led by family counsellors are also available.
Continuing Care Groups
Many clients benefit from ongoing connections through regular group meetings. Each group is unique and offers the opportunity to continue their recovery journey through peer support and education.
Men's Breakfast Club (55+)
Stepping Stones Women's Support Group (55+) - weekly
Men's Support Group - weekly
Women's Support Group - weekly
---