News
St. Joseph's Care Group Grateful for President's Award from Leadership Thunder Bay
Date: 2022-11-25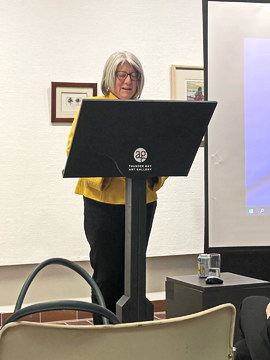 On November 17th, 2022, St. Joseph's Care Group was awarded the President's Award from Leadership Thunder Bay in recognition of our years of partnership and commitment to developing Thunder Bay's next leaders.
"It is truly an honour for our organization to receive Leadership Thunder Bay's President's Award," said Kelli O'Brien, President & CEO of St. Joseph's Care Group. "Programs like Leadership Thunder Bay are such a critical part of building the skills and connections we need to mobilize quickly for the good of our community."
This year marks the 20th anniversary of Leadership Thunder Bay as an innovative program focused on community issues for emerging leaders. It provides participants with a broader understanding of the critical issues affecting our community and helps them develop the skills necessary to resolve them. St. Joseph's Care Group joined Leadership Thunder Bay in 2006, and since that time has sponsored 32 team members to participate in the program.
During her speech, O'Brien reflected on the importance of community and connection over the course of the pandemic: "The past few years have really underscored the importance of coming together to overcome challenges and respond to emerging needs. Leadership Thunder Bay's Mission is to develop, strengthen, and connect leaders to and within our community. At a time when we are all working very hard to attract and retain a capable and skilled workforce, Leadership Thunder Bay continues to cultivate community through connection."
On behalf of our Board of Directors, Leadership, and Staff, we are honoured to receive this year's President's Award. Thank you, Leadership Thunder Bay, for all the work you do in making Thunder Bay a vibrant, connected community for our current and future leaders.
For more information about Leadership Thunder Bay, please visit their website: www.leadershiptb.com