News
Confederation College Hosts Community Rehabilitation Worker Program Convocation Ceremony
Date: 2022-12-01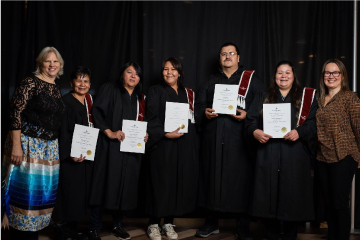 THUNDER BAY, ON, November 24, 2022 - Through a joint partnership with Eabametoong First Nation, Bearskin Lake First Nation, Sandy Lake First Nation, North Caribou Lake First Nation, Lakehead University, Indigenous Services Canada First Nation and Inuit Home and Community Care, and St. Joseph's Care Group, Confederation College is excited to announce the first cohort of graduates from the Community Rehabilitation Worker Program.
The program, led by the eight institutions and funded by Indigenous Services Canada First Nation and Inuit Home and Community Care, trains students to support rehabilitation needs in the communities while rehabilitation professionals (Kinesiologists, occupational therapists, physical therapists, and speech-language pathologists) are not in the remote communities. Community Rehabilitation Workers work with home care teams to assist clients with exercise, assistive devices, home safety, as well as ensure that clients follow through with their care plans provided by rehabilitation professionals.
"The initiative helps bridge the gap and bring better healthcare to isolated communities within the region. We are proud to offer flexible programming, through partnerships, to meet the needs of students and their communities," explained Kathleen Lynch, President of Confederation College.
The partnership between the eight institutions invited students from Bearskin Lake First Nation, Eabametoong First Nation, North Caribou Lake First Nation, and Sandy Lake First Nation to participate in the program.
The students began their studies in March and have travelled to Thunder Bay, Sioux Lookout and each other's home communities to learn rehabilitation principles and practical skills. They are in training one week a month and the other three weeks they return home to practice their rehabilitation skills with clients in their community.
Six students have successfully completed the program and graduated on November 25, 2022.
---
Confederation College has been serving the citizens of northwestern Ontario since 1967 meeting the educational needs of students in a catchment area of some 550,000 square kilometres. Along with its main campus in Thunder Bay, Confederation College has seven regional sites located in Dryden, Fort Frances, Greenstone, Kenora, Marathon, Sioux Lookout and Red Lake, as well as a growing Distance Education division.
Confederation College delivers exceptional education and training to an average of 4,800 combined full- and part-time students per year and currently has a total of 600 full- and part-time employees. Confederation's regional economic impact and contribution is valued at $703.3 million annually.
For more information, please contact:
Jenna Kelos, Communications Officer
Office: (807) 475-6461 | Cell: (807) 632-5680
jkelos@confederationcollege.ca