News
Innovation and Community at St. Joseph's Care Group's 19th Annual CAHR Showcase
Date: 2023-02-21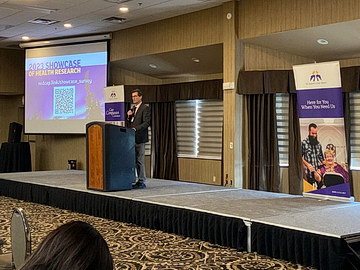 This past week, on Friday, February 10th, St. Joseph's Care Group's Centre for Applied Health Research hosted the 19th annual Showcase of Health Research. Organizations from across the city of Thunder Bay came together to discuss new and emerging health research at the Showcase, which continues to be the premier annual event for the dissemination of research relevant to the health of Northwestern Ontarians. Bringing together professionals, students and researchers from organizations such as Lakehead University, Northern Ontario School of Medicine (NOSM) University, Children's Centre Thunder Bay, Thunder Bay District Health Unit, and St. Joseph's Care Group, participants had the chance to engage other healthcare professionals and researchers exploring important topics in our community.
This year's event showcased research from 22 different organizations, including 7 oral presentations and over 25 poster presentations. Topics included "Supporting Elders Living with Frailty in Remote Indigenous Communities in Northwestern Ontario: Implementing the Role of a Community Rehabilitation Worker," "Everyone Is a Leader: How Plural Leadership is Enacted By, Between, and Among Long-Term Care Workers," and "Changes in Adolescent and Youth Mental Health Presentations as a Result of COVID-19: A Study of Primary Care Practices in Northern Ontario." With over 200 registered attendees, we are excited to see the event's continued engagement each and every year.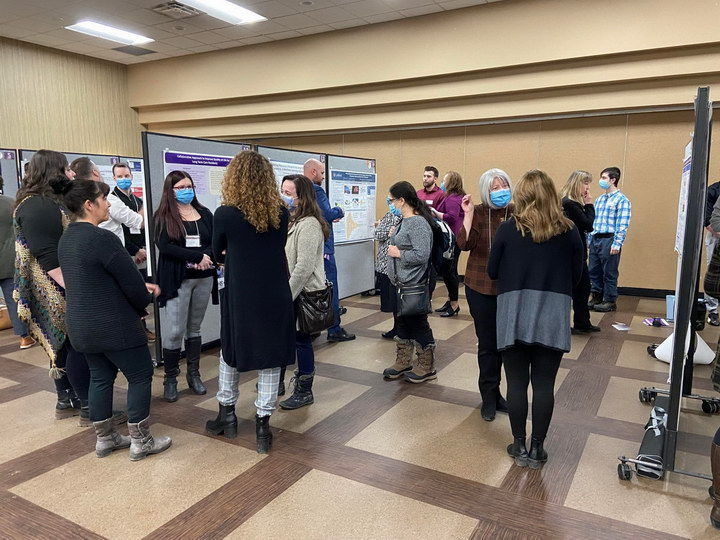 "We've come a long way from the first research showcase in 2006, which took place on the third floor of the Lakehead Psychiatric Hospital (LPH)," said Kelli O'Brien, President & CEO of St. Joseph's Care Group. "At the time, we had 8 oral presentations, but only 17 posters and under 50 attendees. It's events like these that provide critical opportunities to highlight research done in Thunder Bay and Northwestern Ontario that will help us meet our goals of providing committed, evidence-informed, client-centred care."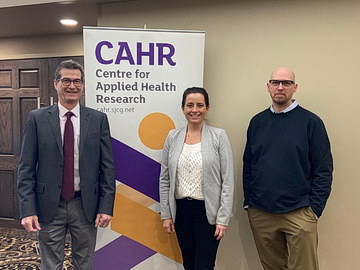 During the event, participants not only had the opportunity to learn about new and emerging research projects, but to discuss with others how to incorporate research into clinical practice and network and develop research partnerships. One such partnership allowed local high school students from St. Patrick's High School to attend the event and discover the opportunities that await them in healthcare research. The students were all Health & Wellness Specialist High Skills Majors (SHSMs), a program that prepares them for future careers in the health and wellness sector. Excited minds inspire others, and this was definitely the central focus of the day.
Thank you to all the presenters, researchers, organizers and attendees for making this year's Centre for Applied Health Research Showcase an event to remember. Special thanks to Hillary Maxwell, Sacha Dubois, and Dr. Michel Bédard for hosting another exceptional event that allows individuals to learn, grow, and continue providing the best healthcare we can.
To learn more about the Centre for Applied Health Research, please visit their website at www.cahr.sjcg.net.
For more information, please contact:
Hillary Maxwell
Research Coordinator
St. Joseph's Care Group
Telephone: (807) 343-2431 ext. 2107
Email: Hillary.Maxwell@tbh.net