News
Wake the Giant Launches Virtual Indigenous Culture and Inclusivity Training with Local Health Partners
Date: 2023-02-24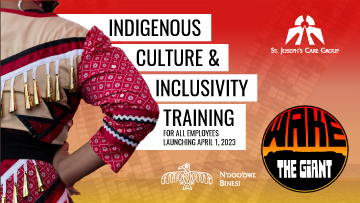 Today, Wake the Giant, joined by the Thunder Bay Regional Health Sciences Centre (TBRHSC) and St. Joseph's Care Group, introduced a new way to learn about the history of Indigenous Peoples and anti-Indigenous racism strategies. Wake the Giant Indigenous Culture and Inclusivity Training provides an online learning experience to support businesses, companies and organizations in creating more inclusive spaces, free of racism, where Indigenous People are welcome.
The training course was developed by Northern Nishnawbe Education Council leaders in collaboration with Elders, Knowledge Keepers, educators, the Wake the Giant committee, and support from healthcare partners. The training has been in development since early 2021.
The online training module will become mandatory for all staff at the Thunder Bay Regional Health Sciences Centre and St. Joseph's Care Group as of April 1, 2023. Participants will learn to identify racism and engage in anti-Indigenous racism strategies while exploring Indigenous history, culture, and traditions. The training also includes a wealth of crucial information that help to understand the harmful processes of colonization in Canada, including the residential school system, the 60's Scoop, and Indian hospitals. This approach will incorporate assessment quizzes, a complete glossary of 'need to know' terminology, videos, and case study scenarios.
Over 5,900 employees and volunteers from the healthcare organizations are expected to participate in the training by March 2025. Upon successful completion, each participant will receive a special Wake the Giant decal for their employee badge. The decals will be visible to patients, students, and others to help identify that staff have completed the training.
"Health professionals have an opportunity to be the first positive experience Indigenous Peoples have in Thunder Bay. Students have indicated that hospitals can be very triggering. Our hope is that having the Wake the Giant symbol worn by staff will help students and their families feel more at ease, as the training will support individuals to be more receptive and empathetic to the challenges that Indigenous Peoples face, particularly when they come to the healthcare organizations for help," explains Greg Chomut, Wake the Giant Co-Founder and Committee Member.
"Our frontline staff are committed to providing the best possible health care experience for everyone in Northwestern Ontario, and as such have been asking for this kind of Indigenous Culture and Inclusivity Training. This partnership is much needed and long overdue, and I am hopeful it will help our region further establish itself as a national leader in this regard." Dr. Rhonda Crocker Ellacott, President & CEO of TBRHSC, and CEO, Thunder Bay Regional Health Research Institute.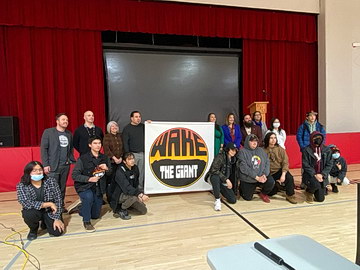 "The Wake the Giant Indigenous Culture and Inclusivity Training will help our staff to better serve our community and bring us forward in a good way. We remain committed to continually working with community partners in developing our Hospital as a more culturally inclusive, safe space." Dr. Miranda Lesperance, Vice President, Indigenous Collaboration, Equity & Inclusion at TBRHSC.
"Relationships are the root of community because they are founded in mutual respect and understanding. St. Joseph's Care Group is honoured that the students and staff of Dennis Franklin Cromarty High School have entrusted us as partners in Wake the Giant. Through their guidance, in harmony with our own journey of Walking With Humility, we are committed to a healthcare system where Indigenous Peoples can expect to be welcomed with respect in an environment that supports care for body, mind and spirit through traditional healing and spaces for ceremony." Kelli O'Brien, President & CEO, St. Joseph's Care Group.
"As people, we are always learning and growing. When discussions began about participating in Wake the Giant, we knew this would be a good fit with the goals outlined in our Walking with Humility plans. Through ongoing education, relationship building and commitment to Truth & Reconciliation, we hope that all our sites and programs will help combat racism and discrimination, so that Indigenous Peoples accessing our services or who work at St. Joseph's Care Group are respected and feel safe." Paul Francis Jr., Director of Indigenous Relations, St. Joseph's Care Group.
The training module also continues resources that encourage each participant to further their understanding and role to prevent racism event after the course is complete.
Wake the Giant was a movement created to provide the Thunder Bay community with awareness and tools to better respond to racism and help celebrate the enduring cultural diversity of Indigenous Peoples. The training will be incorporated into the Wake the Giant Decal Program, which has over 350 local businesses and organizations involved to date.
"Wake the Giant is committed to continue to engage in the important work of challenging racism to create a more welcoming and inclusive city. We know Indigenous Peoples face a wide array of barriers and challenges, and this is an opportunity for people to invest in capabilities that will help individuals and organizations thrive on being better - to create meaningful change and help continue to build a more vibrant and supportive community," says AJ Haapa, Wake the Giant Co-Founder and Committee Member.
The fourth installment of the Wake the Giant Music Festival will be held in Thunder Bay on September 16th, 2023. Details are expected in early spring. For further information on the Wake the Giant Indigenous Culture and Inclusivity Training, please visit wakethegiant.ca or email info@wakethegiant.ca
The Wake the Giant Indigenous Culture and Inclusivity Training is supported by Canadian Heritage and the Government of Ontario.
For more information, please contact:
Amanda Bay
Telephone: (807) 628-7109
Email: media@wakethegiant.ca