News
Join Our Board - St. Joseph's Care Group
Date: 2023-05-24
St. Joseph's Care Group is looking for candidates to apply for a position on our volunteer Board of Directors.
If you are a caring and compassionate individual who wishes to make a meaningful contribution to the governance of St. Joseph's Care Group (SJCG), a Catholic-sponsored organization serving the people of Northwestern Ontario, we look forward to hearing from you. For the upcoming term, we are seeking those with experience in government relations, population health and an understanding of Indigenous Health, Culture and Governance.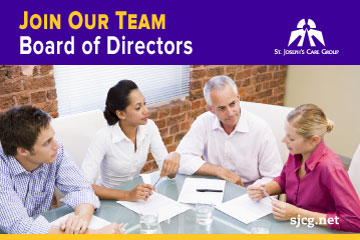 SJCG combines tradition and innovation in responding to the unmet needs of the people of Northwestern Ontario since 1884. We are here for our clients, offering a broad range of programs and services in Addictions & Mental Health, Rehabilitative Care, and Seniors' Heath across eight sites in the City of Thunder Bay.
The Board of Directors of SJCG (the Board) has overall responsibility for the governance of SJCG, providing strategic leadership in establishing its vision, mission and core values and setting policy direction to achieve them. Through a policy governance model, the Board adopts policies to ensure the effective management of the organization's human and financial resources. The Board is also responsible to its funders and the community at large for the operations of SJCG.
Directors are appointed by the Catholic Health Sponsors of Ontario with consideration given to a range of criteria including skills, experience, and time to meaningfully contribute. The Board composition is intended reflect the diversity of Northwestern Ontario and of those we serve.
SJCG is committed to creating a diverse and inclusive environment and welcomes applications from all qualified individuals of Northwestern Ontario including women, visible minorities, Indigenous people, persons with disabilities and other equity-seeking groups. We invite all applicants to complete the voluntary self-identification as a part of the application process.
Directors are appointed for to a term of up to three years, with eligibility for reappointment for two additional terms. All applicants are required to live in Northwestern Ontario. Learn more about our Board.
Accommodation due to a disability will be made available throughout the application process on request. The deadline to apply is Friday, June 9, 2023.
Interested candidates are invited to bring their skills, experience and enthusiasm to serve on our Board of Directors or a Board Standing Committee via this online application form. Inquiries can be directed to:
Sandy Vellinga, Executive Coordinator
Office of the President & CEO
St. Joseph's Care Group
P.O. Box 3251
35 Algoma St. N.
Thunder Bay, ON P7B 5G7


Tel: 807.343.2450


Fax: 807.345.4994


E-Mail: boardrecruit@tbh.net
How to Apply