News
St. Joseph's Care Group Unveils New Simulation Lab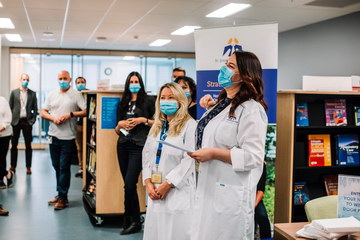 Date: 2023-06-12
On Monday, May 8th, St. Joseph's Care Group (SJCG) unveiled our new Simulation (Sim) Lab. More than 40 people came out to support the space's unveiling, and some even participated in pre-planned escape rooms to test knowledge while navigating the new space. Located at St. Joseph's Hospital, the Sim Lab creates a safe, immersive learning experience for SJCG nurses and staff that helps to bridge the gap between theory and real-time clinical opportunities.
Used as a teaching method in many industries across the world, this hands-on learning is not a new concept for SJCG - from Nursing Skills Day to Mobile Sim Carts, staff have had many opportunities to experience learning that imitates their work environments. Now, they have a dedicated space to cultivate their skills with realistic scenarios in a safe, supportive setting.
"As a large healthcare provider in the region, we have many learners pass through our halls," said Adam Shaen, Vice President, People & Mission. "Our aim is always to provide a positive learning experience for our staff. This new Simulation Lab is another way we can help provide our teams with the skills they need in real-time, continuing our pursuit of lifelong learning."
The project began a few years ago when Danielle Fabischek, Manager of Clinical Innovation & Client Safety, put forward a proposal to have a dedicated space to foster safe, client-centred care. Danielle believed that we needed a place where staff can put classroom learning into practice. The room needed to be flexible, with the ability to create scenarios staff members might face in different care settings from the day to day to emergency situations. Most importantly, it had to be a positive and safe space where people can learn and grow together.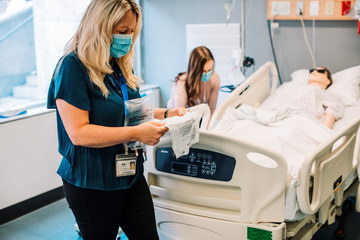 "Our goal is to support staff in maintaining clinical competence and the ability to deliver safe, effective, client-centred care," said Danielle. "It's a place for protected and dedicated time for learning, with the opportunity to make mistakes, ask questions, and receive clarification. A big part of creating a safe space for our staff is ensuring confidentiality and respect are part of the Sim Lab learning experience."
SJCG's Sim Lab boasts a variety of equipment to enhance staff learning. A full-body mannequin can mimic patient characteristics and changes in vital signs including blood pressure, pulse, respiration, and more. From behind a mirrored wall, educators can even use a microphone to speak through the mannequin, allowing staff to practice communicating with clients directly. The room features a hospital bed, bedside table, headwall, and the necessary equipment to care for the "client," including IV pumps, feeding tubes, pressure injury care, and wound care.
In this dedicated space, everyone has the chance to learn and grow.
For more information about the Simulation Lab, please contact:
Danielle Fabischek
Danielle.Fabischek@tbh.net
807-343-4338