News
CCHL 3M Health Care Quality Team Award 2023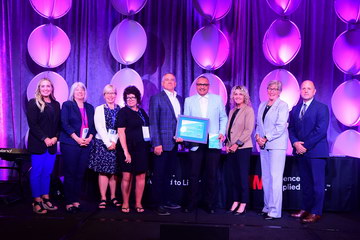 Date: 2023-06-13
June 6, 2023 - At an award ceremony during the Canadian College of Health Leaders' National Conference, members of the Hogarth Riverview Manor (HRM) team joined our President & CEO to receive the 3M Health Care Quality Team Award for Quality Within an Organization.
To be eligible, an organization must demonstrate four important elements: innovation, quality, resident and family engagement, and teamwork. It must also be a program that improves the delivery of resident care and, by extension, the lives of fellow Canadians.
Congratulations to the team at Hogarth Riverview Manor, including staff, leaders, residents and their families!
The CCHL National Awards Program honours teams, individuals and organizations that are making a difference across the healthcare system. You can see current and past winners by visiting: https://cchl-ccls.ca/2023-cchl-award-recipients/
Want to learn more about Hogarth Riverview Manor's quality journey? Please watch the video below.