News
Chapel Blessing at St. Joseph's Heritage
Date: 2023-06-19
As a final act of kindness in service to all, the Auxiliary to St. Joseph's Care Group have continued their legacy of care for body, mind and spirit through the renovation of the Chapel at St. Joseph's Heritage.
On June 19th, 2023, we were delighted to have members of the Auxiliary join us as the Chapel was officially Blessed by Bishop Fred Colli and Father Francisco Blazek. Tenants of PR Cook Apartments and residents of Bethammi Nursing Home joined us in celebration, alongside members of St. Joseph's Foundation and SJCG's Board of Directors and Leadership Team. As we come together to honour the work of our partners, we're also excited to announce that the WoodWerks division of our TeamWerks program will be staining and refurbishing pews for the Chapel in the coming weeks.
"We are grateful to the Auxiliary for their long-standing impact on everyone at St. Joseph's Care Group," said Kelli O'Brien, President & CEO. "Their legacy is one of kindness, compassion and generosity, and I am continually humbled by their caring work. For clients and visitors at St. Joseph's Heritage, the renovated Chapel is now an open, welcoming place for contemplation."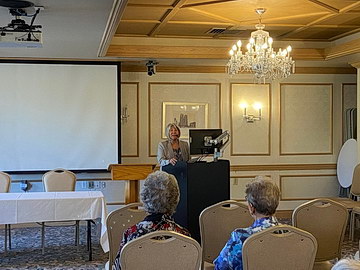 For over 126 years, the Auxiliary at St. Joseph's Care Group served the needs of our community, and their origins can be traced back to 1895 where their dedicated volunteers supported St. Joseph's Hospital with door-to-door fundraising for food, blankets and money. The Chapel at St. Joseph's Heritage, as well as the renovation of the Chapel at St. Joseph's Hospital completed this past October, will stand in tribute to the legacy of the Auxiliary by creating a place of comfort and spiritual reflection for all.
Thank you to everyone involved in the renovations.