News
St. Joseph's Care Group - 2022-2023 Annual Report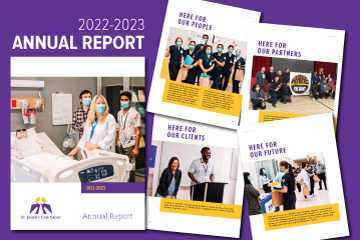 Date: 2023-06-29
Change moves us forward. It creates space for innovation and inspiration, adopting new technologies and approaches, while leaning into our values and teachings. That willingness to change is how St. Joseph's Care Group continues to be Here for You When You Need Us through our 139 years of service to the people of Northwestern Ontario.
As important as change is, we must ensure that we continue to deliver the high-quality, safe care that our clients rely on. This year, St. Joseph's Care Group was awarded Accreditation with Exemplary Standing by Accreditation Canada for a third consecutive time. Accreditation with Exemplary Standing is given to organizations that reach the highest level of performance by achieving excellence in creating a strong and sustainable culture of quality and safety. Also, the Registered Nurses Association of Ontario has again recognized St. Joseph's Care Group as a Best Practice Spotlight Organization for our commitment to building an evidence-based practice culture across our organization.
In Summer of 2022, our journey of reconciliation continued with the launch of Looking to the Southern Direction, the second of our Wiidosem Dabasendizowin: Walking with Humility plans to develop relationships and practices together with Indigenous Peoples. Relationships are founded in mutual respect and understanding, and we are honoured that the students of Dennis Franklin Cromarty High School have entrusted us as partners in Wake the Giant, furthering our commitment to a healthcare system where Indigenous People can expect to be welcomed in an environment that supports care for body, mind and spirit.
Having the right structures is key to enabling change. Over the past year, St. Joseph's Care Group has welcomed our first Director of Mission & Equity, a Wellness Facilitator, and a Manager of Capital Planning & Development. To strengthen connections and enhance flow, Inpatient Mental Health Rehabilitation and Community Mental Health were consolidated under a single Director. We are also actively reviewing our Quality Structure, looking closely at best practices and excellence within other organizations, to make sure we have the right resources in place to support care that is safe, effective, person-centred, timely, efficient and equitable.
Our Annual Report covers many more of the moments of excellence from the past year. None of what has been accomplished would be possible without our staff, physicians, Elders, Client & Family Partners, volunteers and health system partners. To each and every one, we extend our sincere gratitude.
Sincerely,
Susan Fraser
Chair, Board of Directors
Kelli O'Brien
President & Chief Executive Officer
Attachments
Related Links