News
Volunteer Opportunity
Date: 2023-10-18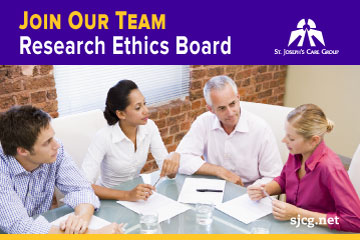 The Research Ethics Board (REB) at St. Joseph's Care Group (SJCG) is looking for an Indigenous Member to join our team. The REB is a volunteer board that reviews all research involving SJCG clients and staff.
The primary role the Indigenous Member is to bring an Indigenous perspective to the review of applications submitted to the REB. You should identify as Indigenous, be familiar with local and regional Indigenous communities, and have experience in the conduct of research.
The time commitment varies but is not more than a few hours per month from September to June.
If you are interested in more information about this voluntary role, please contact Carrie Gibbons, Manager, Volunteers, Library & Research Services at (807) 346-3697 or Carrie.Gibbons@tbh.net.
Related Links