Headlines
Up-to-Date COVID-19
Visitor Information
SJCG Implements New Travel Restrictions at All Sites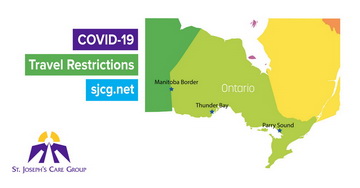 Date: 2020-10-06
Thunder Bay ON –  Effective Wednesday, October 7, 2020, new travel restrictions are being implemented at St. Joseph's Care Group.  Anyone who has travelled outside Northern Ontario (Parry Sound to Manitoba border) but within Canada within the past 7 days will not be permitted to enter St. Joseph's Care Group sites.
"The number of people with COVID-19 has been steadily rising within the province," said Tracy Buckler, President & CEO of St. Joseph's Care Group.  "Taking action early has proven effective in keeping our clients and staff safe and well, and that's the priority for all of us at St. Joseph's Care Group."
At this time, in-person visits will continue for anyone who has not traveled outside of Northern Ontario in the past 7 days.  There are other ways to stay in touch, notes Buckler: "We know that connection to loved ones is essential for the wellbeing of our clients, and we will continue to offer virtual visits, or televisits, when in-person visiting is not safe."
The decision to implement travel restrictions was made after careful consideration of a number of factors.  "Our Incident Management Team is continually monitoring the incidence of COVID-19, directives from the provincial government, and guidance from public health," said Buckler.  "We will always take the necessary steps to keep our clients and our staff safe and well.  I ask that the public please continue to take the simple steps to stay well – maintain physical distance of 2 metres or wear a mask when distancing isn't possible, wash your hands often, and stay home if you are unwell.  We're counting on you to help slow the spread of COVID-19."
For the most up-to-date visitor information, visit our COVID-19 section or follow us on Facebook.
Media Contact
SJCG Communications Media Line
(807) 768-4455
sjcg@tbh.net