Headlines
rTMS - New hope for hard-to-treat depression
Date: 2021-01-19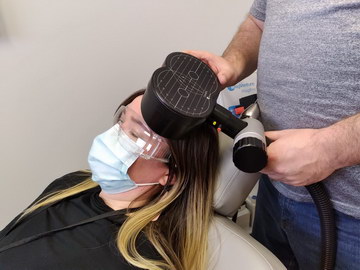 When it comes to treating depression, many people experience success with counselling, medication, or a combination of the two. However, up to a third of all people living with depression do not benefit from treatment. "It's a huge problem when treatments aren't effective," explains Dr. Darryl Vance, a psychiatrist with St. Joseph's Care Group. "It affects a person's quality of life in countless ways."
Fortunately, there is new a treatment option available in Thunder Bay for adults who live with medication-resistant depression. It's called rTMS, which stands for Repetitive Transcranial Magnetic Stimulation, and it is a non-invasive way to stimulate the parts of the brain affected by depression.
How does rTMS work? Clients receive treatment while sitting in a chair that is adjusted for their comfort. A specially trained technician places an electromagnetic device that transmits repeated pulses over a specific, pre-mapped spot on the client's head for a time of three to 20 minutes. "The treatment induces a weak electrical current in the brain tissue beneath the magnet," says Dr. Vance. "This stimulates circuits in the front part of the brain that appear to be underactive with depression." The stimulation helps healthy brain activity to develop.
Clients begin with frequent treatments of five days a week for the first four weeks. Those who respond to the treatment typically experience improvement to their depressive symptoms within the first few weeks. The number of treatments gradually decreases over time, eventually stopping completely or being received as an occasional "booster" treatment, says Kyle Pearson, an RPN and rTMS technician. It is recommended that clients continue with their existing medication and other therapies, adjusting them in consultation with their primary care provider or psychiatrist. While each client responds differently to rTMS, many find that their depressive symptoms decrease or even go into remission.
Dr. Tegan Sacevich says that individuals interested in rTMS treatment often ask if this is like ECT (electroconvulsive therapy). The rTMS is not the same procedure although it may sometimes be used as an alternative to ECT. While both treatments do involve stimulating the brain, rTMS is a procedure that can be done for outpatients - and does not require the use of anesthesia. One benefit of rTMS is that after a session, clients can continue their usual daily activities.
Jason* started rTMS therapy in spring 2020, after living with treatment-resistant depression for nearly 20 years. "I was a little leery of it at first," he says. "But my psychiatrist recommended it." After learning more about the treatment, Jason decided to give it a try. His experience has been life changing. "Within two or three treatments it was like somebody flipped a light switch," he says. Jason continues to receive rTMS treatments, and under the guidance of his doctor, has reduced his antidepressant medication dose in half. "I still have day-to-day stresses, I still have bad days, but, life is just better," he adds. Having a treatment that works has given him a new lease on life.
A specialized interdisciplinary team of physicians and Registered Practical Nurses (RPNs) received training for rTMS at the Centre for Addiction and Mental Health in Toronto and provide rTMS treatment in Thunder Bay at St. Joseph's Health Centre's Neurostimulation Clinic. The clinic opened last February and has seen many clients with medication resistant depression benefit from this new, safe and innovative treatment. Primary care providers can now refer their clients to the Neurostimulation Clinic.
*client name has been changed to protect privacy
---
More information can be found at our Neurostimulation Clinic page.