Headlines
Eye Protection
Date: 2021-03-18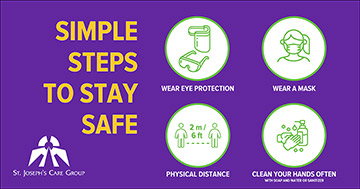 At St. Joseph's Care Group, we are committed to keeping our clients, staff and visitors safe from COVID-19. Starting Thursday, March 18, 2021, in addition to masking, we will now be asking everyone to wear eye protection while inside our facilities. Eye shields will provided at each entry location after completing our COVID-19 screening process.
And don't forget... please maintain 2 metres distance between you and other people and clean your hands often.
---
More information can be can be found in our COVID-19 section.