Headlines
An Update on Visiting Restrictions at SJCG
Date: 2022-02-25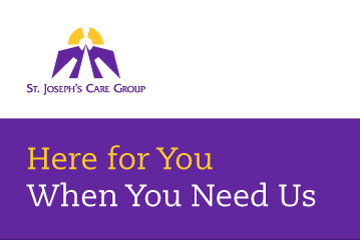 Correction (2022-03-01): Visiting Requirement for Desginated Essential Visitors at St. Joseph's Hospital was corrected.
Across the province public health measures are easing as a result of a decrease in COVID numbers and hospitalizations. It's a step-down approach, with a goal of preserving the healthcare system.
It's a contrast to our local situation, where COVID is continuing to impact our clients and staff. We are still seeing sustained high number of people with COVID admitted to hospital and ICU as well as outbreaks within local and regional communities and care settings.
Did you know that when an outbreak is suspected or confirmed within care settings, admissions may be paused? For clients and staff, it means more precautions are put in place to prevent transmission of the virus. For people who are waiting to be admitted, it means a longer wait for the next appropriate bed.
That's why, at this time, the precautions in place at St. Joseph's Care Group sites will differ from the precautions in general public settings and healthcare settings in other parts of the province. Here is what you need to know before visiting:
At All SJCG Sites, Visitors Must:
Pass COVID screening for symptoms, contact tracing, and recent travel prior to being permitted entry.
Provide proof of negative rapid antigen test if they have traveled outside of Canada in the last 14 days. Click here for more information or to book a test free of charge.
Follow the precautions in place including wearing surgical masks provided by SJCG, and practicing hand hygiene often.
If required, provide proof of vaccination and participate in rapid antigen testing.
Refrain from visiting if they are feeling unwell.
Be aware that precautions can change without notice, such as in the event of an outbreak.
Hogarth Riverview Manor and Bethammi Nursing Home
Indoor visits are limited to two (2) visitors per resident at a time.
Who
Requirement
Designated Caregivers
Up to four (4) Caregivers can be designated, but visiting is limited to two (2) at a time, including General Visitors
Must provide proof of final vaccine administration
and
Must provide proof of negative antigen test twice weekly.
General Visitors
Visiting is limited to two (2) at a time including caregivers
Visitor aged 5 and over must provide proof of full vaccination, as well as a negative rapid antigen test dated within 24 hours of entry to the home.
Resident Short-Term Day and Overnight Absences
(Compassionate & Medical Absences Continue to be Permitted)
Residents who have had a 3rd or 4th dose of a Health Canada approved vaccine may go on short-term and/or overnight absences, be actively screened on return, and participate in a schedule of surveillance testing on return.
St. Joseph's Hospital
Indoor visits are limited to two (2) designated Essential Visitors plus one (1) Other Visitor per client at a time.
Who
Requirement
Designated Essential Visitors
Clients designate up to two (2) Essential Visitors, and the designated person can be changed in consultation with the manager.
Must provide certificate showing proof of full vaccination.
General Visitors
General Visitors are not permitted at this time.
Other Visitors
Includes spiritual and supportive care (e.g. Spinal Cord Injury, Hospice Northwest)
Must provide certificate showing proof of full vaccination or valid medical exemption.
Seniors' Supportive Housing and Other SJCG Sites
Tenants of Sister Leila Greco and PR Cook Apartments must continue to follow the guidance of public health. Visitors must pass screening, and are required to follow all precautions including wearing surgical masks provided by SJCG while in common spaces.
Limits on number of visitors varies at all other sites such as medium and high support housing, and are available by contacting the site directly.
Final Thoughts
Our website provides up-to-date information on SJCG's response to COVID, current restrictions and precautions, and more. Visit us at sjcg.net and click the red COVID-19 Information button.
Did you know you can book a virtual visit or send a message to a loved one at SJCG online? Click the Request a Televisit or Send a Message button on our homepage.
---