Headlines
CHAC National Conference
Date: 2022-05-13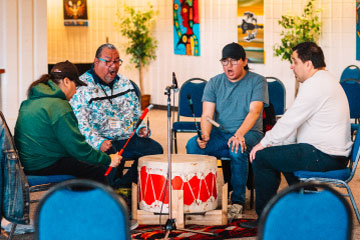 It is with humility and gratitude that St. Joseph's Care Group (SJCG), together with Fort William First Nation, hosted the 59th Catholic Health Alliance of Canada's Annual National Conference: Looking Within: Creating Culturally Safe Environments of Care for Indigenous People. The conference took place from May 11-13, 2022.
A total of 129 Catholic healthcare organizations from across Canada came together in ceremony, exploring uncomfortable truths, as well as shared actions that will help us move towards authentic healing and reconciliation, mutual understanding, and trust. To the panelists who shared their wisdom and guidance, thank you.
We are honoured by the respect entrusted to us by Fort William First Nation. For SJCG, it marked an important milestone in our own journey of Wiidosem Dabasendizowin: Walking With Humility. We hope this conference will serve as an ember of hope for transformational change for Indigenous People receiving care within Catholic health care coast to coast.
Related Links