News
Holiday Message from Leadership Team and Board of Directors
Date: 2022-12-15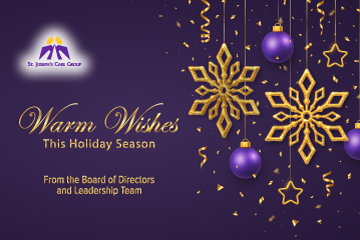 With the new year just around the corner, it seems fitting to pause and reflect on the last 12 months. So much has been accomplished, even as we continue to respond to the COVID-19 pandemic. It's testament to the dedication and commitment of our staff, physicians, and volunteers in service to all in need.
We are pleased to share with you some highlights from the past year:
St. Joseph's Care Group was awarded Accreditation with Exemplary Standing by Accreditation Canada for a third consecutive time.
We received three Leading Practices in recognition of quality and innovation from the Health Standards Organization.
We were again awarded Registered Nurses Association of Ontario's (RNAO) Best Practice Spotlight Organization (BPSO) Designation for 2022-2024.
We've grown the way we support clients including the expansion of the Indigenous Health Team and the addition of a tee pee for ceremony at Sister Margaret Smith Centre.
To support a workplace that is welcoming, where everyone can thrive, we've taken deliberate steps through the introduction of a Wellness Facilitator, and renewed our focus on equity, diversity and inclusion. Our commitment to staff development continues through LEADS Lite, LEADS the Way, and more.
On behalf of St. Joseph's Care Group's Board of Directors and Leadership Team, we wish you and your loved ones peace and joy through the holiday season and in the new year to come.
Warmly,
Susan Fraser
Chair, St. Joseph's Care Group
Board of Directors
Kelli O'Brien
President & CEO
St. Joseph's Care Group