News
Celebrating Seniors' Month - Century Club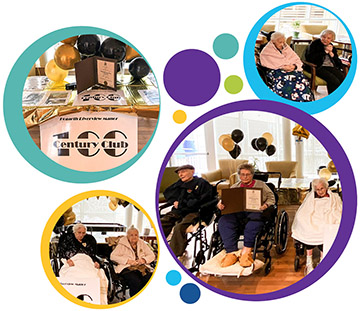 Date: 2023-06-05
June is Seniors' Month, a time to celebrate and recognize the contributions of seniors within our community. One of the ways in which St. Joseph's Care Group celebrates seniors is through the Century Club at Hogarth Riverview Manor.
The Century Club started in the Fall of 2022 and celebrates residents who have reached 100 years of age and older. So far, the club has recognized over 15 members, with the oldest resident being 106 years old.
"The Century Club was an idea brought forward by Therapeutic Recreationists of Hogarth Riverview Manor who wanted residents to feel celebrated when they reach this incredible milestone. Residents along with their family and friends are invited to the party." said Veronica Howarth, Life Enrichment Manager at St. Joseph's Care Group. "We believe that sharing these special moments together with our Hogarth family is an important part of the therapeutic relationship between residents, families and staff."
Century Club parties are held three times a year in Town Hall at Hogarth Riverview Manor. Residents are excited to come together and celebrate with friends and family. Surrounded by balloons, banners, and signs, staff strive to commemorate each resident and at every club meeting, new members receive a congratulatory letter signed by the mayor of Thunder Bay.
For many Centenarians, the most exciting part of the celebration is visiting the Century Table. The Century Table is a visual walk back in time created by staff to share important local historical moments from the last one hundred years, such as Princess Elizabeth and the Duke of Edinburgh's visit to the Lakehead in 1951 and the amalgamation of Port Arthur and Fort William in 1970.
Seeing photos and news headlines offers residents the opportunity to reminisce and share about what life was like over the last 100 years. At the last club meeting, members viewed photos of Thunder Bay from 1922 and celebrities born the same year, including Betty White, Judy Garland, and Christopher Lee.
The next celebration is planned for June 9th, and members are looking forward to reminiscing on history dating back to 1923. Please join us in celebrating members of the Century Club for this fulfilling accomplishment.
Learn more about Hogarth Riverview Manor here.