Hogarth Riverview Manor Services/Updates
For More Information: Visit our Hogarth Riverview Manor page
We believe that enhancing the quality of life of each individual is very important. Every effort is made to ensure that the resident's physical, psychosocial, and spiritual needs are identified and addressed. This is accomplished through the availability of a variety of programs and services provided by a multidisciplinary team.
Nutritious Meals
The nutritious meals, served in the dining areas, are prepared on site and provided three times daily, with snacks in the afternoon and evening. Light refreshments are available on the units at all times. Special and therapeutic diets are also provided. Consultation with a Registered Dietitian is available as needed. Monthly Food Committee meetings are held with residents, families, and Food Services staff to discuss food issues and provide suggestions on the menus. Click here to see an example two-day menu
Housekeeping
Housekeeping service is provided daily throughout the home and encompasses all resident home areas as well as public and community spaces. Deep cleaning is done on an annual basis or more frequently if necessary.
Building Services
Building Services staff assist in providing a safe physical environment, both indoors and on surrounding property.
Care Conferences
A care conference is a meeting with the resident, their family, and the multidisciplinary team to review care needs. Care conferences are scheduled within six weeks after admission and annually thereafter, unless there is a need to meet more frequently.
Medical Services
The Medical Director is available to all residents; however, individuals can retain their own personal physician.
Nursing Services
The nursing team consists of Registered Nurses (RNs), Registered Practical Nurses (RPNs), and Health Care Aides (HCAs). Professional nurses are on site 24 hours a day:
Registered Nurses are responsible for the day- to-day provision of care to the residents and to support other nursing staff.
Registered Practical Nurses ensure the continuity of care as directed by the Registered Nurse.
Health Care Aides provide personal care and assistance as outlined in the resident's plan of care under the direction and supervision of the RN and RPN.
Infection Control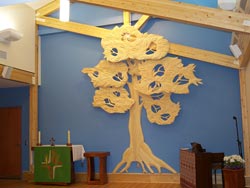 Frequent and appropriate handwashing is the single most important factor in preventing the spread of infection. All residents, visitors, volunteers and staff are asked to wash their hands often. Visitors are asked not to visit if they are feeling ill or have traveled to a country where an outbreak of a severe illness is occurring.
Vaccinations
The Government of Ontario recommends annual Influenza Vaccination for all residents in long-term care homes. One-time Pneumovax Vaccination is recommended by the Thunder Bay District Health Unit for all residents. Both immunizations are available on site with consent.
Palliative Care
In situations when death is expected, residents often want to remain at their home rather than be sent to a hospital. Nursing and Spiritual Care staff are trained in providing comfort and support to the resident and family.
Families and clergy are free to visit whenever they wish. At Hogarth Riverview Manor, palliative care is provided in the resident's own room.
Support is also available from Hospice Northwest.
*example two-day menu*
Sunday
Monday
Breakfast

Orange Juice
Cream of Wheat
Boiled Egg
Ham Slice

Cranberry Juice
Rolled Oats
Banana Muffin
Cheese Slice

Lunch

Lentil Soup
Marinated Vegetable Salad
Vegetable Lasagna / Crab Salad Croissant
Italian Green Beans
Vanilla Mouse / Apricots

Minestrone Soup
Colesaw
Chicken Fingers / Cold Plate
Corn
Brownie / Pineapple

Dinner

Turkey and Rice Casserole / Roast Beef
Oven Roasted Potatoes
Cauliflower
Peas
Lemon Chiffon Cake / Grapes

Veal Cutlets / Herb-Baked Haddock
Noodles
Broccoli
Whipped Squash
Cherry Cobbler / Applesauce
Spiritual Care
Spiritual and emotional support is provided on an ongoing basis for residents, families and staff by qualified Spiritual Care staff. Chapel services, as well as clergy and faith leader visits, are coordinated through the Spiritual Care Department. Residents and families are welcome at our chapel services.
Pharmacy Services
A community-based pharmacist provides prescription medications and pharmacy services. The pharmacist participates in care conferences to review the medications of each resident.
Life Enrichment
The Life Enrichment Department provides recreational/leisure activities for all residents. Programs are based on needs, interests and capabilities. Activities include a variety of recreational and, social events, library services, outings in the community as well as entertainment and crafts. A calendar of activities and programs is posted on each floor and provided to each resident monthly.
Residents' Council
The Residents' Council is an elected body of residents and family members. It is the vehicle through which residents maintain control over their lives, share in the management of the home, and thereby contribute to their own welfare and that of their peers.
Services Available at Additional Cost
Preferred Accommodation
Telephone, cable television, newspaper/magazine subscriptions
Hairdressing/Barber services
Gift Shop
Custom wheelchairs and specialized adaptive aids
Transportation
VON foot care
Alternate incontinent products
Occasional fees for entertainment or outings
Additional Physiotherapy services beyond those provided
Secure lock for closet drawer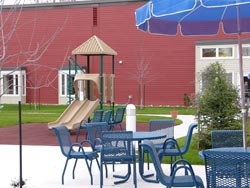 Services Available on Referral
Occupational Therapy - for assessments of function and seating for purchasing a wheelchair
Physiotherapy - for assessment of and setting up a personalized exercise program
Speech Therapy - individualized speech therapy programs, swallowing assessments, and swallowing management programs
Professional Chiropody
Geriatric Assessment
Social Work
Psychogeriatric Assessment
Referral to other Medical Specialists
Volunteer Services
Hogarth Riverview Manor has many volunteers that give of their time and assist with various programs and functions, as well as escorting residents to medical appointments. The Volunteer Coordinator organizes these services based on resident needs.
Smoking
Residents who are able to smoke independently, both Homes have designated areas for such residents to smoke outside of the building.