Addiction Treatment for Substances (Adult)
Contact Us
Referrals
Photo Albums
Videos
Our programs have been helping individuals and their loved ones make the healthy changes for over 50 years! Our professional staff, with diverse backgrounds and training, are here to help individuals choose healthier lifestyles that include overcoming the obstacles that stand in their way. Small success can become bigger and better with the right support and guidance.
Are you ready to see change happen? Contact us now: call (807)684-5100.
I Need Help for Myself
We offer
personalized treatment plan designed to fit each person's unique needs
treatment approaches based on Evidenced-Based, Best Practices
support that continues as long as it is needed
Free and confidential help
Where do I start?
1. Assessment
Addiction assessment is the first major step in treatment. The assessment will gather information about drug and alcohol use, medical conditions, withdrawal or behavioural concerns, mental health concerns, readiness for treatment and living environment. The assessment is used to develop a plan for treatment and will identify areas of strengths as well as potential road blocks.
Assessments in Thunder Bay are primarily provided by Thunder Bay Counselling - our community partner. Simply call them at (807) 684-1880 for the next available time or drop-in on Thursdays at 1:15 PM for a group info gathering session.
If you are not from Thunder Bay, contact ConnexOntario by phone 1-866-531-2600, by text 247247 to help you find the closest service in your area.
If you have any questions about this process, give us a call and we will be happy to explain!
2. Referral
After your assessment is completed, your counselor will meet with you to make suggestions for treatment. With your consent, the counselor will refer you to the most appropriate option(s) for help. Talk with them about your goals! They may recommend that you see your primary care provider if there are physical health concerns, or they may refer you to someone who can help with mental health concerns, like a psychiatrist. These types of referrals are normal and are done to help you find a road to recovery that suits you the best. Discuss any fears about the process with your counselor!
Not everyone is automatically referred to live-in treatment for their drug or alcohol problem. You might find that treatment for you means outpatient counselling and regular doctors visits. It all depends on the severity of the problems and what you need.
Alcohol and Drug Problem severity is a continuum: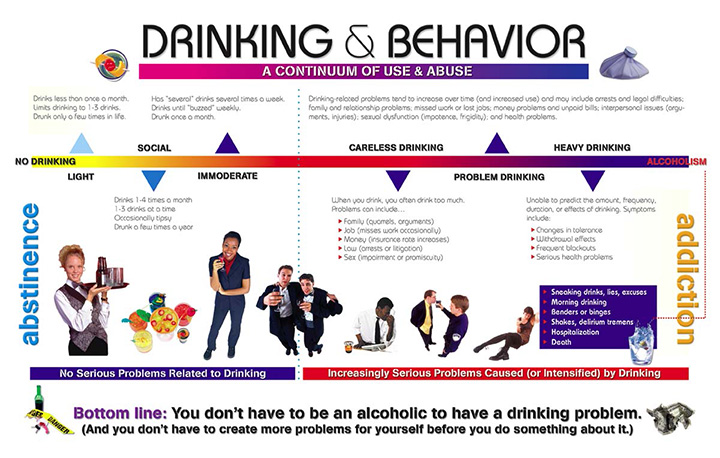 3. Treatment
We offer
Individual counselling
Group counselling
Live-in treatment
Help for Family Members
For those affected by someone's drinking or drug use
It is always difficult when a person you care about is struggling with drinking or drug use. A person cannot be forced to change behavior that they do not want to change. They might not want to change, even when substances are causing problems for them. However, if you think they might want to give change a try, there is help. Not only do we have services for a person changing their own behavior, but we also have support services for family members as well - whether your loved one is making changes, or not.
How We Can Help You?
Family counseling
Family education groups
Couple's counseling
Individual support for family members
Give us a call for more information.
How do I know they have a problem?
Here are some things to consider, if you are unsure your family member may have a problem.
According to DSM-IV criteria, people who are dependent on alcohol or drugs will:
Show tolerance (find that they have to drink more to get their desired effect from alcohol/drugs).
Experience withdrawal symptoms when the effects of alcohol/drugs wear off.
Drink/Use larger amounts over a longer period of time than intended.
Consistently fail to cut down or control their use.
Give up important work or personal activities in favor of drinking or using.
Spend a great deal of time getting alcohol or drugs, using it and recovering from its effects.
Continue to drink/use despite knowledge of a persistent physical or psychological problem caused or exacerbated by drinking or using drugs.
If you need to talk to a professional about your loved one's drinking or drug use, Sister Margaret Smith Centre can help.
Resource Links